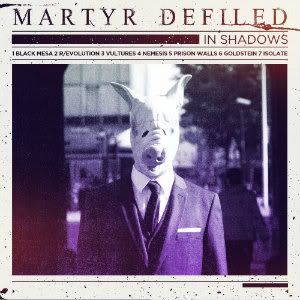 Release Date: September 3rd, 2012
Label: Siege Of Amidia Records
Website: None available
Facebook: www.facebook.com/martyrdefiled
Twitter: www.twitter.com/martyrdefiled
Rating:


Lincoln's Martyr Defiled are an emerging British metal act that are genuinely worth keeping your eyes on. 2010's debut full-length 'Collusion', though technically sound and bristling with political hate throughout, seems somewhat of a side-step from the path that the band were expected to take. The riffs were fast, the drums were faster, yet at times some things seemed to focus on expert musicianship first and power second.
Side-stepping back on their original path and taking a few steps forward, new EP 'In Shadows' sounds like the release that was meant to follow debut EP 'Ecophagy'. The energy has increased two fold, the aggression is still unrelenting, the political attack is still on the forefront and though the instrumentation throughout is impressive, it sounds completely natural and intended to be.
Opener 'Black Mesa' gets the ball rolling perfectly; the tremolo picked riffs and blast beats drive us along a welcoming chunky ride of adrenaline and furiocity. A noticeable change since the 'Collusion' release can be seen in the delivery of frontman Matt Jones' vocals. They bring a bit more of a chaotic and 'punk rock' vibe, tip-toeing the line of human and demonic, ultimately ticking another box on the great release checklist.
As with some of the band's earlier material, it's the few one-liners throughout in the lyrics that will no doubt be adorned all over various social network sites, potential future merch ideas and are expertly crafted for those sheer sweat filled crowd involvements at shows. "There is no truth to be found in your words" ('R/Evolution'), "Tear it apart, from the inside out" ('Isolate'), "Sit the fuck down, I know who you are" ('Goldstein') and "This is my world, you're just living it" ('Nemesis') are just a few future crowd snapshot moments for the band and fans to take full advantage of.
With the amount of British metal bands cropping up with very little to ensure their survival, it is bands like Martyr Defiled putting out releases like 'In Shadows' who will remain victorious. From 'Egophagy' through 'Collusion' and to present day, the Lincoln outfit have grown from a cub into a beast, with an intimidating snarl and razor claws. The music industry is their prey and their kill, and most other bands in their scene will be the vultures fighting for the remaining scraps. A truly exceptional band and release.
Written by Zach Redrup