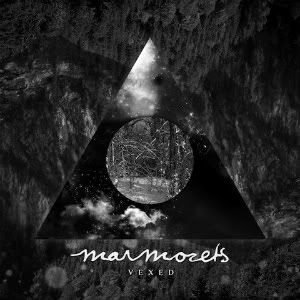 Release Date: February 6th, 2012
Label: Unsigned
Website: www.marmozets.co.uk
Facebook: www.facebook.com/marmozets
Twitter: www.twitter.com/marmozets
Rating:


Championing themselves into the mainstream following the free download release of their 'Passive Aggressive' towards the end of last year, Marmozets managed to put out one of the strongest EPs of the year from an unsigned band. Just over a month into 2012 and they've proved that lightning can strike in the same place twice with 'Vexed', a much darker and far more math driven piece.
Right from the get go with opener 'One Man Wolf Pack', the Leeds outfit burst their new material into life with screams and high velocity which grabs you and takes you through the ride of the remaining tracks to follow. Vocalist Becca Macintyre brings out many more screams and screeches throughout than in their previous EP effort that she could almost give Eva Spence of Rolo Tomassi a run for her money. Her fellow members shouldn't go without credit either, the axe-work of Sam Macintyre and Jack Bottomley is down right choatic yet controlled, and the rhythm section from bassist Will Bottomley and drummer Josh Macintyre is nothing short of exhillirating.
The band have pushed their powerpop roots further away than ever before, and those who find more comfortability in the more radio-friendly end of the rock spectrum may find themselves bewildered here. Even the more melodic offering offering of them all here 'Realise' is a little rough around the edges. It's this more math persona and grittier backdrop however that pushes the band's preset boundries, and back-to-back closing tracks '9/10/11 – 12:13' and 'Arrive Alive' bring a close to what is the first insert into what will undoubtedly be a fantastic year for the band.
'Vexed' is a far more relentless and harder to tame beast than last year's 'Passive Aggressive', but for those who can handle their music with a little more turbulence and veering away from the conventional rules will find this Yorkshire outfit ones to keep a close eye on. The fuse has been lit, and it's only a matter of time before things detonate and the Marmozets truly make an imprint on the scene.
Written by Zach Redrup