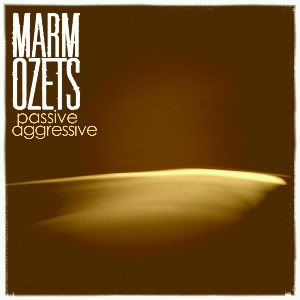 Release Date: October 31st, 2011
Label: Unsigned
Website: www.marmozets.co.uk
MySpace: www.myspace.com/themarmozets
Rating:


At some point in the past few years, The Dillinger Escape Plan, Be Your Own Pet, The Fall Of Troy and Rolo Tomassi had some parts of their style and body extracted from them, shoved into a blender, mashed all into one entity and poured out into a Leeds-based beverage: Marmozets. Thus far in 2011 alone the band have been featured in Kerrang! magazine, had a support slot with VersaEmerge during their UK tour, a space at Hevy Festival and have now made their latest EP 'Passive Aggressive' available for free download from their website.
To summarise and simplify the collection of aforemention artist comparisons made at the beginning of this review, Marmozets create a rough punk rock edge with essence of the complexity that TDEP, TFOT and RT are known for, along with a confident frontwoman in Becca Macintyre, much like RT and BYOP (hope you're keeping up with the abrieviations). Still not simple enough for you? Okay, Marmozets sound like a female-fronted Hell Is For Heroes with a bit more balls and depth in terms of riffage. Whatever you call it, it's undeniably impressive that these guys are barely in their 20s.
This EP's bookend tracks are definitely the ones that stick out as their strongest workings, opener 'Back To Blackout' and closer 'The Perfect Beverage' – see how that linked with the opening paragraph? Hope so. The former drives us into the remainder of 'Passive Aggressive' fast but with surprising comfort, and the chorus hook "The sky is higher than we thought / It's higher than it's meant to be / But things do change when he kissed me / When he kissed me / We've never crossed this line before / We're taking it step-by-step / And I still believe when he kissed me / When he kissed me" just drags you in the deep end with no way out or desire to find it either.
'The Perfect Beverage' clocks in at just over six minutes and arguably displays their more technical side more prominently than any other offering on this 6-track, and despite its longer duration than the other other songs on the EP, it doesn't at all get boring. "I'm not by your side / I'm not taking time / You deserve everything you've got" is sure to go in a loop around your skull for days after hearing this track, and the breakdown that exchanges screams between Becca, brother Sam and bassist Will Bottomely around the 3:05 marks is an insatiable display of the band's heavier side too.
They're young, but already Marmozets have managed to succeed in creating an EP that surpasses some of their far more aged and experienced peers. 'Passive Aggressive' is a intimidating competitor and strong candidate for best EP and unsigned release of 2011, and the fact it's available to download for free is almost too good. Get in there before these guys explode.
Written by Zach Redrup