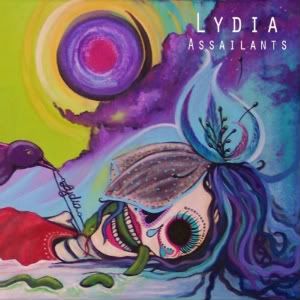 Release Date: July 20th, 2010
Label: Unsigned
Website: None available
MySpace: www.myspace.com/lydia
Rating:


When a band announces their split before their then automatically final release, it turns into less of a record and more of a eulogy instead, and much more focus on the song meanings and lyrics is an inevitable outcome from this too. Lydia's farewell bid to the world of music 'Assailants' is very much a final cleaning of the slate and letting those final feelings out to their fans before diappearing amidst the rest of those who stopped before them.
With member after member leaving the band running up to the release of 'Assailants', the demise of Lydia was an inevitable occurance, but in doing so remaining member Leighton Antelman's moaning vocals have never been more sincere in the band's 7 year career.
Intro track 'Enjoy The Show' implies the obvious goodbye from the band right from the beginning, with the lyrics "So glad you could make it to a farewell / 'til we meet again, enjoy yourself" sticking out like black on white with what kind of content is to proceed it. Following on with 'We Clean Up So Well', it's evident that the unavoidable intended end of the band hasn't at all affected the quality of their output, with their final release composing of some of their best work to date.
'A Place Near The City' has a slight electro tinge throughout the band's usual emo fluid indie rock, bringing a slightly more upbeat tempo to the generally laid back and chilled proceedings. A lot of indie acts today try to achieve a similar end product in their work but fail in doing so, and would benefit greatly in taking a page from Lydia's book. The farewell concept is still present there too, "'cause whatever happens is supposed to /
Whatever happened, there's nothing I could do" could be about the band's death as much as referring to a relationship. The interpretation is down to you.
The title-track closer assures that Lydia's ever shortening fuse ends with a bang, tilting things towards the waters of epic before soaking it at the end with one final wail of the words "just like you promised", acting as the final say from this emo driven indie rock band.
'Assailants' is definitely a piece of work to be proud of, materialised with 7 tracks that are as emotional and connecting as they are an act of closure to their sea of fans and followers obtained since their inception in 2003. RIP Lydia.
Written by Zach Redrup