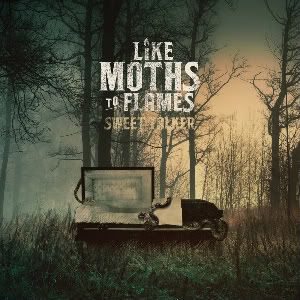 Release Date: December 14th, 2010
Label: Rise Records
Website: None available
MySpace: www.myspace.com/likemothstoflames
Rating:

In his short time on the mainstream scene, vocalist Chris Roetter has managed to build up quite a CV of past bands. Starting out in Emarosa, moving onto the more Christian influenced Agraceful, and now his new project Like Moths To Flames. Though so far his involvement with each project has been short lived, this new project may see a change in this usual routine.
Admittedly stylistically not much has progressed or developed since his involvement in the then-post-hardcore styled Emarosa, Chris' consistent creation of relatively good music has remained intact. Like Moths To Flames is definitely his heaviest project thus far, with grunts and frisky roars coming thick and fast from start to finish. No clean vocals come in until the second track in, and even from there they're a fairly rare appearance. 'Real Talk' brings in some very little melodicy, whereas 'Bloodsport' and 'Dead Routine' show the one or two really memorable hook this band have on offer with 'Sweet Talker'.
Though it's intense, powerful and hellish from start to end, there's not much here that makes this band worth picking out more so than the flood of hundreds of other bands producing the same fairly generic post-hardcore/metalcore releases that are hitting the shelves week in and week out.
This is only their debut EP release, and leaves much time for Like Moths To Flames to show their full worth and potential yet. There's still chance for these guys to pull out the big guns.
Written by Zach Redrup