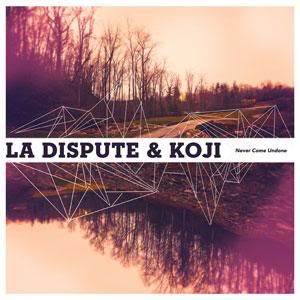 Release Date: May 3rd, 2011
Label: No Sleep Records
Website: www.nosleeprecs.com
MySpace: www.myspace.com/nosleeprecs
Rating:


Whilst both being bands/solo artists that I admire, I must admit I am a sucker for everything that La Dispute have come to release in the past, mixing delicate emo tones in the vein of pure screamo essence, with underground vibes of pure hardcore/punk. A split that shows the strong bond between the band and KoJi, and pretty much advocates what friendship means.
On the La Dispute half of the record, their musicianship and raw emotion shines through what is otherwise a dull opening in 'Sunday Morning, At A Funeral'. It doesn't quite give you the spine shattering shiver you get from most other La Dispute songs, but you can tell it has somehow been picked to match the vibe that KoJi gives across. The next song, 'Last Blues', however, furthermore explains just how intense and slain with emotion they can be, taking you on a journey through both pain and love, it draws you in with the little words that Mr. Dreyer vocalises.
KoJi is an artist I put on personally at a local gig with Such Gold a few months back. He has a certain aura and persona that just oozes out of his bones and skin, and a definitive connection with the crowd that is just awe inspiring. With his strong vocals and beautiful harmonies, he picks up where he left off with his previous split with 'Into It. Over It.' with delicate, soothing songs, including a brilliant rehash of 'Biomusicology' (originally done by Ted Leo & The Pharmacists).
Overflowing with swaying tempos and beautiful, sensual string pickings, the split just brings you to a crescendo of both stunning noise and yet calming sounds.
Written by Dom Wyatt