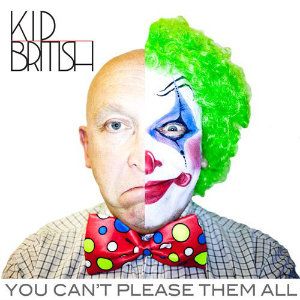 Release Date: June 24th, 2012
Label: LAB Records
Website: www.kidbritish.net
Facebook: www.facebook.com/kidbritish
Twitter: www.twitter.com/kidbritishmusic
Rating:

Kid British are a band on the way up. After supporting The Stone Roses at Heaton Park in June, the future looks pretty bright for another set of talented Mancunians. Manchester is a city known for producing great artists and that's exactly what Kid British are. All four tracks on 'You Can't Please Them All' are finely crafted and masterfully produced. What the band is great at is seamlessly mixing genres of dance, indie, hip-hop and catchy pop tones which all merge and give us fifteen minutes of inventive delight.
The songs are really catchy as well, especially the first two; 'Until Monday' and 'Lonely', with the former being so terrific that if it was sung by Cheryl Cole it would have no trouble hitting number one in the charts. Just like the artwork for this EP, there's an abundance of vivid colours and imagination flowing all the way through and it's dynamic and energetic qualities are parallel to some quality dance and guitar melodies.
'You Can't Please Them All' is a record that is perfect for listening to when you're getting ready on a Friday night to go out with your mates. It's got summer vibes gushing out of every pore and a real optimism that's great to hear. The only fault worth mentioning is that it could do with at least one more track, as you get so into the music after track four that you just want to hear more.
Kid British have conjured up a really intelligent and original record which most definitely deserves more air time than it will probably get. It's a release with real ingenuity and that's something the UK pop scene could do with a dose of.
Written by Greg Spencer
Founder & Editor for DEAD PRESS! | Atheist and antitheist. | Judge of the quick & the dead since 1989.