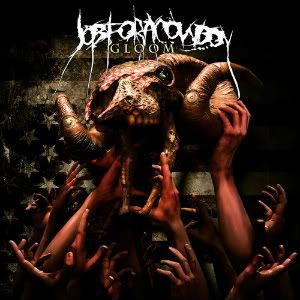 Release Date: June 7th, 2011
Label: Metal Blade Records
Website: www.jfacmetal.com
MySpace: www.myspace.com/jobforacowboy
Rating:

During the last decade two things began to emerge, MySpace and deathcore. In 2005, Job For A Cowboy seized upon these two fads, as they became one of the very first 'MySpace bands'. After increased traffic to their MySpace page, the band were picked up by King Of The Monsters Records to release their debut EP, 'Doom'. This move has inspired wave after wave of new bands attempting to do the same, so whether you like it or not, JFAC changed the way the music industry worked and obviously this upset a lot of purists within the scene, many of whom claimed that the band were just a fad and would not make anything of themselves.
However, six years later, they have overcome a lot of hate and they still ply their trade in the lead heavy death metal sound that gained them a lot of popularity and attention; however there has been a noticeable reform in the band's songwriting. They have moved away from the scrappy deathcore sound to a more mature, standard death metal sound.
Gone are the days of Jonny Davy's infamous inhale pig screams, and they have been replaced with a combination of raspy high screams and guttural lows. The riffs of Al Glassman and Bobby Thompson have also vastly improved, no longer do they rely solely on chugging riffs and hellish breakdowns, as 'Plastic Idols' shows off some interesting guitar work with an impressive, soaring solo to match. As does 'Misery Reformatory' and 'Signature Of Starving Power', whose guitar solos are somewhat reminiscent of a hair metal band like Blessed By A Broken Heart, as opposed to a punishing death metal one.
As per usual, Jon Rice impresses behind the kit as he shows off his impressive double bass skills throughout 'Execution Parade', whilst also offering up his more technical skills to match. His use of impressive filler sections throughout show just what this man can do, and this EP firmly bulks up his rightful reputation as one of the best drummers in the world.
As impressively brutal as the band are, there is still something that is not quite right. Yes, the band has an abundance of technical ability, but to what extent do they show this off? Whilst they do show off what they can do quite well, they stick to a rigid, generic formula based almost entirely on breakdowns and blast beats, and in all honesty, it is dull. So many other bands like Whitechapel and Carnifex stick to the same thing so for the band to realise their true potential, and once again become game changers in the death metal scene, it is imperative that the band expands their sound. They have done it once before, so doing it again should be no problem.
In my heart of hearts, I know that Job For A Cowboy will always remain the same, and perhaps that's not such a bad thing, seeing as they appear to have their sound nailed down perfectly to what they want to achieve. In regards to this EP however, it is pointless. Whether it is a stop gap in the run up to a full-length, who knows, but for a band to release 4-track EP that is as bland and dull as this one seems somewhat of a mistake. Maybe I'm missing the big picture, but somehow I don't see how this was a necessary thing for the band to do, and if anything it comes as somewhat of a dent in their already bumpy reputation.
Written by Oliver Thompson