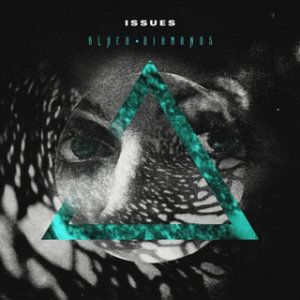 Release Date: November 13th, 2012
Label: Rise Records
Website: www.issuesrock.com
Facebook: www.facebook.com/issuesofficial
Twitter: www.twitter.com/issues
Rating:


When Tyler Carter left Woe, Is Me last year to focus on his solo career, many fans questioned the future of both the band and Tyler. A few months later, other members of WIM left one by one. When all these members rejoined to create Issues, many were concerned this could just be a WIM wannabe imitation. Before this EP came to light, two ex-WIM members left the mix, Ben and Cory Ferris. Essentially, this is former WIM vocalists with a new band.
Debut EP 'Black Diamonds' is evidence that, though not a completely different entity, Issues are indeed a new band in their own right. Disregarding the pointless intro track, first song proper 'King Of Amarillo' is the most familiar to those fans of the members' previous outfit. It's also the one track that takes a few digs at their now ex-bandmates, such as "Since you took demise, we'll take the fame" and "If you don't like these lyrics, take a listen to 'Genesi[s]'".
From here, the Issues vocalists separate themselves from their past in a far more distinguished way, implementing a more R&B style into their post-hardcore mainframe.
'The Worst Of Me' really shines through Carter's slick cleans, which have clearly grown and improved since his days in WIM, and 'Princeton Ave.' may be the EP's crowning moment, bearing a positive message of being a "real man" and one of the catchiest choruses throughout the entirety of this release.
There are a few areas that seem a bit of a place and would've perhaps served better without. The somewhat 'bonus track' at the end of EP closer 'Her Monologue', which sees a guest appearance from Scout before an abrasive rap section from Carter seems a little disjointed, and the guest scream section from Chris Fronzak of Atilla in 'Love. Sex. Riot.' is more than a little annoying.
The main thing that makes this a worthwhile release is that Issues have managed to ensure they're a separate body of work from WIM, despite their formation consisting of almost the exact same personnel but still maintaining the vocalists today. They've managed to create something somewhat original with the blend of R&B and post-hardcore, and the tag vocal team of Carter and Michael Bohn is as strong as ever.
Oh, and sadly, people across the Internet are already branding this as 'R&Bcore'. Please, stop. We don't need to -core every genre.
Written by Zach Redrup