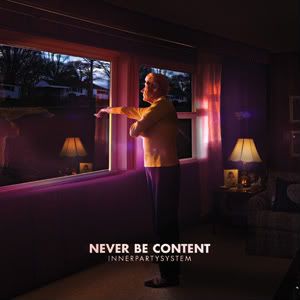 Release Date: March 29th, 2011
Label: Red Bull Records
Website: www.innerpartysystem.com
MySpace: www.myspace.com/innerpartysystem
Rating:

InnerPartySystem trod a pretty unique line between dance, electronica and alternative back on their eponymous debut album. The lead single 'Don't Stop' was a sleeper hit in 2008, and the quality of their material led to a tour of America and a near-as-dammit sold out UK tour in 2009. But, with the departure of Jesse Cronan, the jack-of-all-trades handyman of the band, it seems IPS have chosen to take their sound in a new direction. Well, it's not so much a new direction as a streamlining of their musical style. Where their sound used to be a razor-sharp synthesis of spiny industrial and heavy club beats, now it's dance. Just dance.
If a copy of 'Never Be Content' was played to a room full of IPS fans who'd never heard the EP before, I can almost guarantee no one would recognise the band as they sound here. This is a shame. Their music used to be unpredictable and interesting, but this latest offering is very much typical summer club fodder. That's not to say that the music is unpleasant, it isn't. It just doesn't feel much like an InnerPartySystem release.
'And Together' gets 'Never Be Content' off to a relatively exciting start, with an infectious chorus as well as an impressive keyboard section. 'Money Makes The World Go Round' favours less well, with a bafflingly annoying sample, and a tangle of ungainly electronica and 'ker-ching' noises. 'American Trash' is easily the best song on offer here, although it borrows heavily from the sounds of latter-day Nine Inch Nails. The lyrics feel a little light and hollow, but this is the closest IPS come to recapturing the sound from their debut, only with the dance aspects ramped up and the social commentary reined right in. It's enjoyable from a musical standpoint, but it's just a shame that the lyrics feel forced.
From here the EP peters out somewhat. 'Out Of Touch' is pleasant but forgettable, and 'Not Getting Any Better' displays few qualities to distinguish it from the other tracks or any of the hundreds of middle-of-the-road dance songs out there. The last track 'Squid' mixes up the formula with a slower tempo and chilled out feel, but it lacks passion or any particular stand-out elements to elevate it much above the other songs.
'Never Be Content' is a difficult EP to recommend. If you were a fan of IPS's previous release then you probably won't enjoy what they have the offer here, but if you are a dance music fan with a taste for radio-friendly, forgettable tunes, then this might just be for you.
Written by Grant Bailey