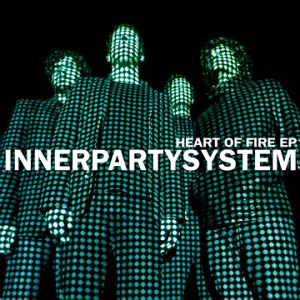 Release Date: May 18th, 2009
Label: Stolen Transmission
Rating: 7/10
Website: www.innerpartysystem.com
MySpace: www.myspace.com/innerpartysystem
Since the release of their self-titled debut album, InnerPartySystem's popularity has been soaring sky high. With countless tours, including a position playing at the Give It A Name festival, not much can go wrong for these boys at the moment. Cited and described by the band as a "UK version of 'The Download' EP" (which was their release before the album), the 'Heart Of Fire' EP contains all the same songs along with two extra exclusives.
'Heart Of Fire' is easily the strongest effort on the 6-track, keeping a steady and effective blend of dance synth input with a rub of alternative rock to keep things steady. The repetition of the L-word (no, not lesbian) can at first seem tedious "All this comes back to the love / the love I spoke with honest and pure eyes / now I remember what I had done / something meaningful to get you and fall in love", but once digested soon becomes one of the catchiest sections – aside from the thumping chorus.
Things are brought to a much more synth-driven 'The Way We Move', with pure electronic behind the steering wheel, heading through half-vocoder verses, and keyboard and bass layered chorus sections. 'Heart That Heals' is back into the blend of rock and electro once more, but sadly isn't quite as impressive as what InnerPartySystem are easily capable of from previous work. All the elements are there, but just lacking in that extra oomph-factor to get it going.
The 'Heart Of Fire' EP is a great installment to keep fans eagerly fed who are after more and more new material, but the band's full-length – put simply – just shits all over this.
Written by Zach Redrup