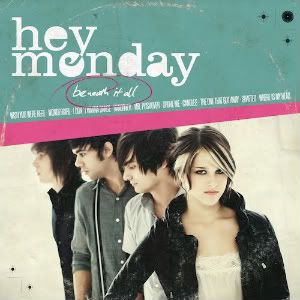 Release Date: August 17th, 2010
Label: Decaydance/Columbia
Website: www.heymondaymusic.com
MySpace: www.myspace.com/heymonday
Rating:

Normally when you hear this band you immediately get into the arguement of who is hotter, Hayley Williams or Cassadee Pope? Why this is relevant I have no idea, but that's just generally how conversation goes. Anyway, after a very impressive previous release in debut 'Hold On Tight' this band can only surely go from strength to strength.
Total clichéd pop-punk and no shame in it either, they clearly show glimpses in 'Wish You Were Here' and 'I Don't Wanna Dance' as the soaring melodies continue from the previous album. Whilst I'm not one to take away from their obvious catchy songs in their back catalogue, the following new songs just don't seem to cut it in terms of throwing the gauntlet down for other bands to supercede. There just doesn't seem to be any songs that mirror the upbeat creativity and delight of 'Josey' or 'How You Love Me Now'.
Furthermore, it's not that it's so badly written music wise or lyric wise either (albeit some are very cringe), you could just argue simply that the production lets it down, as it feels totally electronic to the touch. Punk has its foundations in gruff and raw edges; it should have that effect to make it all the more punchier and a lot more human.
Having seen this release go from a ten-track album, to a 6-track EP, it's somewhat worrying to think that these may have been the best songs they had written. Whether or not it has anything to do with members to-ing and fro-ing is yet to be seen, however it would seem that the pinnacle of this bands career so far, has been but hopefully not gone completely.
The comparisons to Paramore are probably doing more harm than good for Hey Monday, as they no doubt will never reach that hype or exposure all over the world, on the other hand though the world is their oyster considering their young ages. On the final note, to dispel the arguement… Miss Pope wins by a country mile (excuse the pun).
Written by Dom Wyatt
Founder & Editor for DEAD PRESS!