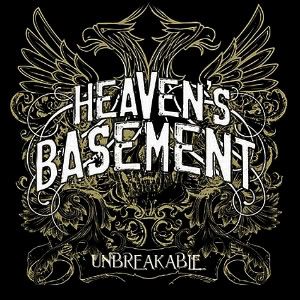 Release Date: June 28th, 2011
Label: Unsigned
Website: www.heavensbasement.com
MySpace: www.myspace.com/heavensbasement
Rating:


After Aaron Buchanan stepped in to take over the role of lead vocals in February this year, Heaven's Basement have clearly undergone a change in style with their latest EP release, 'Unbreakable'. The record shows a solid attempt at creating something fresh, and in that instance the band have succeeded to a reasonable extent.
Title-track opener 'Unbreakable' delivers a fast and strong introduction to kick things off straight away. This automatically gets its listeners engaging with their new style. First time we hear Aaron's vocals he comes in with a loud yell before entering properly, with a very similar sound to bands like Young Guns. The energy is kept up throughout the whole song and supported from an up-tempo guitar solo, providing a solid opener for any EP and a good performance from the newly enrolled vocalist.
'The Long Goodbye' and 'Guilt Trips And Sins' deliver a much rougher vocal style and have a very classic rock feel to it whilst still remaining fairly similar to their opener. Both of these songs continue to impress their audience with the seemingly flexibility and experimentation with the new vocalist.
Their style doesn't just change there, songs like 'Leeches' and 'Paranoia' continue to show a complete change in style. The former of the two can easily be interpreted as a typical glam rock song from its fast tempo, dirty fast vocals and hooking, classical riff styles. The latter also shows a similar style, but definitely carries itself in a much calmer approach. These two songs show just how far Heaven's Basement can go to impress their fans. Despite showing flexibility as a band, it can cause some fans to lose interest in songs that are almost a completely different genre from which they're interested in.
Similarly, 'Close Encounters' and 'Let Me Out Of Here' show a very similar rock 'n' roll style to that of We Are The Ocean. 'Unbreakable' provides the band's fan base with the perfect debut to Aaron's position as lead vocalist, mixing several styles to display how they can take more than one path as their future as a band progresses forwards. It also allows them to respond to what styles are preferred most, so this EP can be their perfect change to choose the sound the want to stick with. The EP shows a lot of potential for them, and should hopefully grant with them with the reception that they deserve.
Written by Matthew Collins
Founder & Editor for DEAD PRESS!