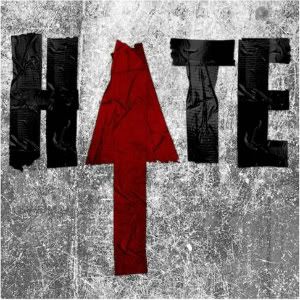 Release Date: August 23rd, 2011
Label: Cardboard Empire
Website: www.hawthorneheights.com
MySpace: www.myspace.com/hawthorneheights
Rating:


Hawthorne Heights have blasted their way back onto our iPods with their most current EP release 'Hate'; a perfect title for an EP that provides us with such a volitile, emotional and distinctive approach to distribute their feelings in their writing. The EP is said to be the first in a triology of EPs since they've undergone disputes with their previous record label, Wind-Up Records. With their new independent imprint Cardboard Empire up and running; it's time to see what the guys are made of.
'There Was A Kid (Part 1)' kicks off the record with a slow pace, setting up the tone for the record. As the song progresses, it gradually becomes more layered and the pace significantly picks up. The multiple layers all working over one another gives the song a really messy and insane feel to it, suggesting how the band have felt. It makes an effective opener, however, the lyrics come across as mediocre and typical of something you'd hear of a teenage garage band.
'Is This What You Wanted?' follows straight in, screaming "Is this what you wanted?" delivering some well pented anger. It provides a blast of energy to kick the track off, but soon loses its momentum and turns into a dreary, slightly boring track merely preaching about their problems. The only power behind the songs is the raw screams supported from vocalist JT Woodruff. Despite the sudden drop in momentum, there are definitely some standout tracks on the EP, most notably 'Divided' and 'Wasted In NYC'. 'Divided' starts bringing back the tempo with a fast and engaging riff that helps to bring what is one of the more powerful, explosive tracks of the release.
Title-track 'Hate' says everything in its title, simply being a song about how much the band seem to hate everything. "I hate my job" and "I hate every fucking thing in this world" show both JT's blunt form of expression and hit-or-miss lyrics. Despite this, the song fits the EP nicely and is a pretty easy song to understand and make a connection with, because let's face it, we all hate something.
'Four White Walls' provides a good penultimate song to the EP, with it keeping a steady pace ready to bring the EP to and end, before closer 'Passengers' puts that final push in to wrapping up what could be a new future and era for Hawthorne Heights.
'Hate' shows a clear improvement on the band's style and shows an attempt to going back to their roots a bit after becoming a little bit more mainstream oritentated, despite some of their hit-or-miss, elementary approaches to their song writing. With two more releases to follow, this EP should definitely spur some excitement into old and new Hawthorne Heights fans.
Written by Matthew Collins