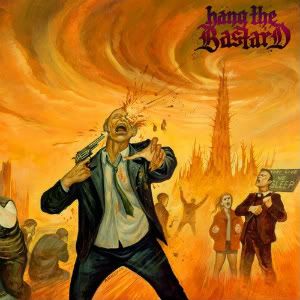 Release Date: March 2nd, 2012
Label: Thirty Days Of Night Records
Website: www.hangthebastard.co.uk
Facebook: www.facebook.com/hangthebastard
Twitter: www.twitter.com/hangthebastard
Rating:


Hang The Bastard return in 2012 with their self-titled EP, released on TDON Records. The release came along with a special deluxe package, including a t-shirt and Ouija board; something that definitely enhances their reputation as one of the most evil of the UK hardcore bands out there today.
First single off the EP, 'Interplanetary Portals', is perhaps one of the best songs that Hang The Bastard have released to date. Groove laden riffs reminiscent of Crowbar and Sepultura pound the listener into submission within the first few minutes of the album. From this point onwards, you just know that this EP will be a totally unrelenting beast.
'The Year Is One' is a track that Hang The Bastard originally released on their split EP with Brutality Will Prevail, but has been re-recorded and made a hell of a lot heavier and better produced this tim around. This song still stands up alongside the new one, despite having been around for a year or two, proving that this band write songs which are built to last.
One of the main things that you notice on this EP is the strength of frontman Chris Barling's vocals and lyrics. He has injected a new level of anger and bile into his delivery and it totally stands out. The band as usual play as hard and as intensely as they have on previous releases, and it's just brilliant to hear that Hang The Bastard have pushed on from 'Hellfire Reign', which was a brilliant release in itself.
Closing track 'Rivers Edge' stands toe to toe with any song that they have released so far. It's definitely one of the strongest songs to come out of the UK hardcore scene in 2012. As a closing track, the riffs that guitarists Sam and Sina crank out are a cataclysmic ending to this EP and it leaves you wanting so much more.
Hang The Bastard once again show their absolute quality and prove that they, alongside bands such as Brutality Will Prevail, are leading the way in UK hardcore. This EP should not be slept on – pick it up or miss out massively.
Written by Josh Peett
Founder & Editor for DEAD PRESS!