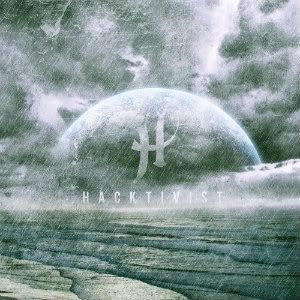 Release Date: November 12th, 2012
Label: Unsigned
Website: www.hacktivist.uk.com
Facebook: www.facebook.com/hacktivistband
Twitter: www.twitter.com/hacktivistuk
Rating:


The era of nu-metal/rap has met a new decade and it's about to blow your mind. Hacktivist, a band ready to pull out all of the stops to produce an EP so different to the rock/metal music scene that it borders on the line; combining rapidly spat lyrics and heavy guitars riffs is something that is undoubtedly seen as unforgiveable music in the metal scene, but somehow Hacktivist combine it well.
The self-titled EP opening track, 'New Age', is short and straight to the point, setting the standard for the rest of the release. The lyrics are fast and sweet, creating an enjoyable atmosphere that gets you pumped and raring for the next track. There's something about this song that's so addictive, but before you can figure it out, it's over.
But, it isn't until 'Unlike Us', the EP's lead single, that you begin to release just how interesting it's becoming. In comparison to the release's previous track, it's slowed down a tad; the vocals are mixed between rapid rapping to then soft vocals. It's a rather unusual mix, but the rugged guitars coincide with the rapping and, although their comparisons have been made with nu-metal/rap band Limp Bizkit, their style and attitude to music is very different as well as believable.
As a nu-metal/rap band, the chances of being broadcasted on BBC Radio One nowadays are limited, but the grime influence in 'Blades' has earned its airtime on the radio station. The EP doesn't contain the best vocals known to man, but the grime style of rapping fits alongside the instrumentals, creating a new style of music in today's music scene.
They have found their unique style and it works, demonstrated no better than it is in 'Cold Shoulders' and showcasing the band in their element. It's easy enough to sing along to, but more importantly, jump to. Hacktivist are a band that have created something so different to an extent that at first glances you will ignore, but once you listen long enough, you'll find that this band have a lot to offer.
Hopefully, there will be a lot more to come; a potential album release will see this band through the upcoming years if this EP is anything to go by. This five-track EP has a lot more to offer than what's on the cover; Hacktivist have proved that almost anything can work if you've got the ability to create great sounding music.
Written by Yasmin La Ronde