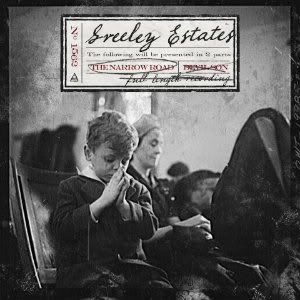 Release Date: November 20th, 2012
Label: Unsigned
Website: None available
Facebook: www.facebook.com/greeleyestatesband
Twitter: www.twitter.com/greeley_estates
Rating:


Ever since their swift and smart turn into the darker and less cliche realms of the post-hardcore genre with 2008's 'Go West Young Man, Let The Evil Go East', Arizona's Greeley Estates have pushed their capabilities further and twisted it into more sinister territories. Four years later, the band are now going it D.I.Y. after leaving Tragic Hero Records to release their two part album (or, two EPs), with part one 'The Narrow Road' maintaining the band's image and reputation.
Right from the off, EP opener and title-track 'The Narrow Road' sets things ablaze and causes more carnage than that fucking huge monster in Cloverfield. Ryan Zimmerman's distinguished vocals are truly in their prime now, being able to execute some hell relenting screams and roars with such ease and power, as found strongly in the tracks 'Die' and 'Doomsday'.
Though their main strength lies in their juggernaught riffs from Brandon Hackenson and David Ludlow alongside a war ensuing rhythm section from combo bassist Kyle Koelsch and sticksman Chris Julian to together create tracks that shake the earth, it's their placements of subtle melodies and hooks which takes them that extra mile. Case in point of this lies with 'Head Under Water' and 'Watch It Burn', the former easily being the most 'pop' you'll find the band on this release, which really does say something.
As a whole, 'The Narrow Road' is a great step into the consistent talent that Greeley Estates can put out the year after year. It's not too long, but short enough for us to beg for something more from these guys pretty quickly. Thankfully, the second and final part in this chapter of the band's career 'Devil's Son' will deliver just as successfully in a few months time.
Greeley Estates are one of the most underrated acts of their genre. Unearth some talent and discover a band who put 100% into their work, creating snarling and adrenaline rushing material time after time.
Written by Zach Redrup