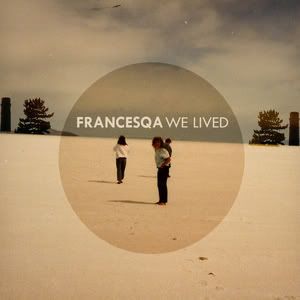 Release Date: July 19th, 2010
Label: Unsigned
Website: None available
MySpace: www.myspace.com/francesqa
Rating:


Ever since their appearance at Slam Dunk Festival 2010, the buzz for Kerrang! Introduces stage contest winners Francesqa has been off the charts. Almost over night it was like no-one knew who they were to them being played on Scuzz and Kerrang! TV along with a stream of new adoring fans. Their debut EP 'We Lived' is their first step into the mainstream rock world, and understandably they're playing it safe.
Following an airstream similar to that of You Me At Six, 'We Lived' is a 5-track long package of catchy pop-rock that tugs at your heartstrings from start to finish. Yes, nothing new is on show here, but it's got the right forumla to get you moving, and the right sound to be heralded as an upcoming Radio 1 "new find".
Opener and debut single 'Ghosts' has "upcoming teen following" written all over it, keeping the basic yet fool-proof verse/chorus/verse structure tightly-whipped and executed. They're treading in the same footsteps as the now defunct Tonight Is Goodbye (who've now progressed and developed into Futures), most notably in 'Hopeful' and 'Crooked Little Sun' but with the bore-factor subtracted. They're what Tonight Is Goodbye tried but failed to sound like.
'We Lived' is an album that sits in comfortable yet safe water, making for an average release that could either be followed up with a failure or great success of a full-length. Francesqa have got their foot in the door now, but only time will tell how long they stay there.
Written by Zach Redrup