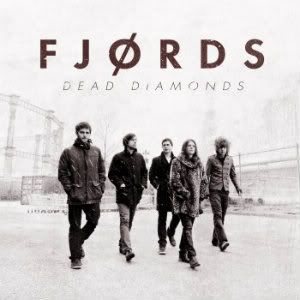 Release Date: September 24th, 2012
Label: Unsigned
Website: None available
Facebook: www.facebook.com/wearefjords
Twitter: www.twitter.com/wearefjords
Rating:

Cardiff welcomes Fjords, an electro-rock band taking a step back into the 80s and dragging us along with them. Fjords provide enough energy in their music to rival a thunderstorm. Their music highlights the catchy side of 80s pop-rock music, but with an electro twist. They may not be Cardiff's answer to electro-rock, but they sure are going to give it a go.
'Russian Doll' erupts as a version of a late 70s twist on modern indie rock, compiled with electronic sounds. It captures an interest as a memorable and catchy track with a great chorus and its synth edge. It's a perfect radio song, blaring from speakers across the Welsh city of Cardiff.
'Shinjuku' follows suit, but it entwines the elements of British punk and synths. It's an odd combination, but somehow Fjords makes it work. It's a theatrical track, which vocally adds depth to the EP. The pace adds the pop ego that they appear to be categorised with, but it's a pace that's overwhelmed and ruled by synths.
EP title track, 'Dead Diamonds', reflects both David Bowie and Depeche Mode; both great artists, but somehow their influence in this track isn't reflected in a great light. The 80s have been and gone and this focuses too much on what could have been. It's the better track on the EP, but lyrically, it's appalling.
Before the record catapults to an end, 'Say It As It Is' comes around and is a little more straightforward; the guitars are torn and rugged, and the synthesisers explode throughout. There is a little resemblance of 70's prog rock that adds a diverse twist to the EP.
The only highlight of this EP was it ending. Fjords are a band that tries to hard to compile too much into one song. There are too many different genres trying to be entwined into the synth sound that it collapses and loses the true sound that the band are aiming towards. It seems that Fjords are a band that have just removed the stabilisers and are beginning to find out there own original sound.
Written by Yasmin La Ronde
Founder & Editor for DEAD PRESS!