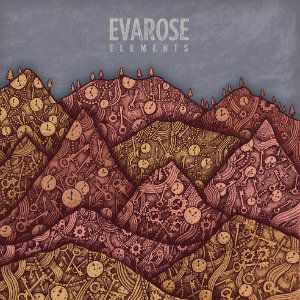 Release Date: August 6th, 2012
Label: Unsigned
Website: www.evarose.co.uk
Facebook: www.facebook.com/evaroseband
Twitter: www.twitter.com/evaroseband
Rating:

All girl UK quartet Evarose have followed up their exciting debut release 'Creation Divide' with their new EP, 'Elements'. It tells of a development in their sound becoming more technical and mature, whilst still maintaining their angst-ridden attitude that grabs your attention and keeps hold of it across the record. If the band manage to keep up to their high levels of music releases in the future, it won't be long before they make a real name for themselves.
Opening track and first single, 'Best Left Alone', kicks off the release with an upbeat rhythm, impressive riffs and a catchy chorus. Immediately noticeable is the instrumental progress Evarose have made since their first release, the guitar work has become more technical, the drumming has become more prominent and this makes for an all-around more unified, polished sound. This progression is most apparent on somewhat slower track 'There's No Such Thing As Something For Nothing', where the band brave new territory with a slower number but still keep up their heavy rock sound.
New release 'Change' demonstrates how the band no longer rely on the undeniably impressive vocal performance of front woman Dannika Webber. There are moments when on previous releases Webber would have belted out a huge note and stolen focus, but across this record the each band member compliments each other perfectly, not needing a standout performance to take focus.
This record shows that while some people will no doubt focus on the novelty of an all female line-up, Evarose themselves have no intention on relying on that as their appeal. They have solidified their foundation with 'Elements' and can only go on to greater things from here. Developing themselves into more mature accomplished musicians is making them more engaging and exciting to see how they progress from here. Keep an eye on this band, they're going on to great things.
Written by Jonathon Barlow
Founder & Editor for DEAD PRESS! | Atheist and antitheist. | Judge of the quick & the dead since 1989.