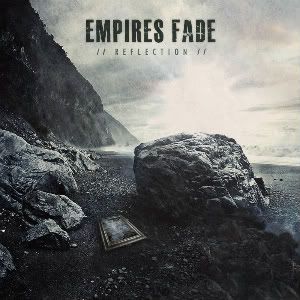 Release Date: March 18th, 2012
Label: Unsigned
Website: www.empiresfade.com
Facebook: www.facebook.com/empiresfade
Twitter: www.twitter.com/empiresfade
Rating:

With extreme music continuing to remain in such rude health in the UK recently, the glut of stellar bands that unjustly sit on the unsigned shelf continues to grow rapidly. One such outfit, Manchester hardcore mob Empires Fade, look more surely than anyone to be quickly snatched from the pool of massing hopefuls, as taking the evidence of their five track EP 'Reflection' as a taster of things to come, theirs is an exciting future indeed.
Melding the guitar melodicisms of Misery Signals with the straight up pummeling of such heavy hitters as The Acacia Strain, and adding just a dash of 'Ruin'-era Architects, the songs here are brimming with an immediate malevolence, apparent from the off as the dissonant chords and pummelling rhythms of opener 'Virtue' begin proceedings. From here, we are treated throughout to a flood of hulking grooves, monstrous breakdowns (just check out an minute and a half into 'The Highest Highs' for what will surely be a live favourite) and shimmering lead work.
Indeed, although the release is consistently relentless, it is these infectious lead lines which act to provide a welcome glimmer of light in the darkness, with songs such as the towering 'Volition' switching up between crushing intensity and serene, subdued picking sections, lulling the listener before the next ferocious wave hits.
It's this sense of dynamics that Empires Fade have really seemed to grasp on 'Reflection'. The tracks ebb and flow seemlessly between melody and aggression, yet all the while retain a certain frenzied sincerity, which is no more clear than with the inclusion of some occasional clean vocals which pleasingly forego the polish and auto-correction so popular today, relying solely on ability and the raw emotion that comes across. The soaring melody in the aforementioned 'The Highest Highs' is a prime example of this.
'Reflection' really is an impressive effort, and should see the band garner a much wider audience with its hard hittingly savage approach. With an equally fierce live show, especially given their place on some imminently fantastic tours, it will undoubtedly not be long until Empires Fade are relieved of their criminally labelless tag.
Written by Tony Bliss