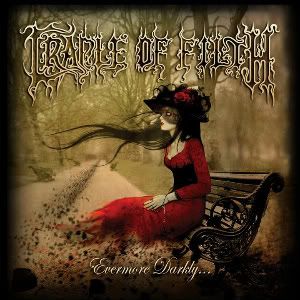 Release Date: October 24th, 2011
Label: Peaceville Records
Website: www.cradleoffilth.com
Facebook: www.facebook.com/cradleoffilth
Rating:

Suffolk's Cradle Of Filth have always managed to make quite an impression towards the metal community, and may be one of the only British extreme metal bands that are known within the mainstream music scene as much as they are. This may be larely down to their controversial image, lyrics and merchandise (like the infamous Jesus Is A Cunt tee which brought so much hate, especially from the Catholic community). On the back of their latest full-length, 'Darkly, Darkly, Venus Aversa', the band have released a companion EP/DVD package, 'Evermore Darkly', containing some bonus material and a rather lovely titled documentary, 'You Can't Polish A Turd… But You Can Roll It In Glitter'.
The problem with releases such as 'Evermore Darkly', the lack of original new content isn't something that'll sway most of those who aren't already part of the band's fanbase, as most of this EP contains demo tracks or slightly altered versions/remixes of already released material. Nevertheless, the extended working of 'Lilith Immaculate' now clocks in at just over 8 minutes, and offers those with the patience to listen to the whole working with a new sense of the track which cranks up the song's epic-factor. Sadly though, aside from new offering 'Thank Your Lucky Stars' (intro 'Transmission From Hell' doesn't really count), which maintains the band's extreme presence, the rest of the EP merely serves as an extention to a fan's collection.
It's the DVD however that's the main pull factor. The humourously titled documentary, 'You Can't Polish A Turd… But You Can Roll It In Glitter', gives an intimate behind-the-scenes insight to the band's recent tour across Europe, such as some drunken antics discussing keyboardist Caroline Campbell vomiting on herself and pranking her boots. The live video of their performance at Graspop Festival earlier this year is also a highlight, translating a selection of some of the band's greatest songs into a live setting.
Regardless, 'Evermore Darkly' is a release that's made more for the band's existing fans than the potential new ones, and even so it's more the DVD half of the package than the CD that's worth the purchase. Unless you're a die-hard fan of Cradle Of Filth, it's probably worth investing your money into another one of the band's releases.
Written by Zach Redrup