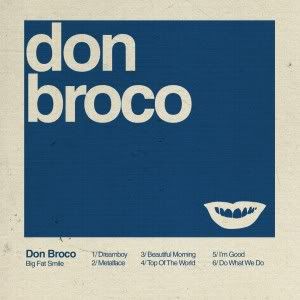 Release Date: February 14th, 2011
Label: Unsigned
Website: None available
MySpace: www.myspace.com/donbroco
Rating:


The British pop-rock scene has been flooded to saturation point lately, with bands like You Me At Six, Kids In Glass Houses and Lostprophets all becoming household names. So the question I am posed with when listening to 'Big Fat Smile', with its infectious choruses and sugary sweet vocals, is what makes Don Broco stand out from the crowd? Well, they've got a few interesting ideas up their sleeves. Don Broco aren't content to stick to the three-chord, 4/4 time convention of their genre, throwing in the occasional odd time-signature and technical guitar riff, and throughout this EP you may often be surprised by the complex rhythms and beats this band create. This leads to an interesting but subtle compound of styles.
'Dreamboy' opens in your typical pop-punk fashion, before taking an interesting ska-esque turn in the pre-chorus and chorus. 'Metalface' follows this, tinged with early-00s Brit-Indie charm, before an explosive second half, reminiscent of The Maccabees when they were still a bit dangerous. The final surprise comes on the positively dissonant 'Top Of The World', with its unexpected jaggedness and bite that adds a rougher texture to this relatively friendly release. 'Big Fat Smile' shows a wealth of potential waiting to be tapped by Don Broco on future releases. 'Beautiful Morning' displays the band at their catchiest and is the most marketable track, with some interesting guitar lines and an impressive vocal performance from frontman Rob Damiani.
They're very clearly a talented band, but there is a coldness to their sound, a lack of passion that effects the appeal of their music. Many of the tracks, though very listenable, are lacking in real heart. This is barring the superb 'All Good', which arrives in a swelling wave of post-rock delay. The lyrics are heartfelt, the beats are tight and complex and the riff in the closing minute is an absolute killer. It's the sound of Don Broco opening themselves up and allowing the listener a glimpse into what this band could be like if they abandoned the limiting conventions of the pop-rock genre they currently abide by.
It's just unfortunate that this opportunity is so fleeting. Perhaps on a full release there would be more stand-out moments to balance the relatively plain punk-by-numbers tracks, but as 'Big Fat Smile' stands now, it's listenable and pleasant, but uninspiring. This release still stands as one to pick up when you can; the band have some interesting ideas that makes 'Big Fat Smile' stand out from the crowd, and when they let their true potential shine through, their music is very good indeed.
Written by Grant Bailey
Founder & Editor for DEAD PRESS!