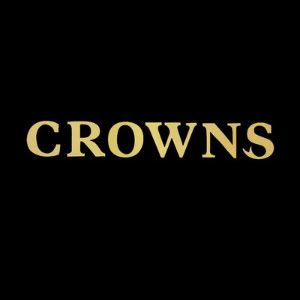 Release Date: March 5th, 2012
Label: Emperor Records
Website: www.crownsband.com
Facebook: www.facebook.com/crownsband
Twitter: www.twitter.com/crownsband
Rating:

Cornwall! For me, it was just a land of pasties and stupidly high background radiation levels (I swear those two are linked), but now, it's also the homeland for one of my new favourite bands. Having graced the airwaves of Radio 1 from time to time with their debut single, 'Kissing Gate', they're building a solid foundation for a promising career. Now, they're embarking on a quest to break into the world of folk music with their new self-titled EP (as well as trying to destroy some magic ring by throwing it into a volcano).
According to their Facebook page, they describe themselves as fish-punk, and usually I would litter this review with clever fish puns. But, honestly, I'm quite ill and so my wit isn't really up to its usual standards. However, this wonderful EP did help me get out of my miserable/unwell frame of mind and gave me a small burst of positivity. So, I threw it on my MP3 player, went for a walk and my god, it was like something from a film. The sun came out, the grass seemed to become greener, there were no people trying to sell me drugs – everything seemed so much nicer, all because of this pleasant soundtrack. Seriously, if you ever need to walk off a hangover or an illness then make sure you listen to this while you do so. Nothing will brighten your day more.
On the folk-rock scale, they're leaning towards the likes of Flogging Molly and Frank Turner, just not as punky. Take 'Hell Or High Water', it's a catchy little ditty that conjures up images of a bunch of lads, merrily stumbling back from the pub, blasting out the passionate lyrics at the top of their lungs. The record as a whole is outstanding. It's a peachy collection of enjoyable and entreating tunes that will have your toes-a-tapping all day long.
Having gone to countless folk-rock gigs (Flogging Molly, Gogol Bordello, etc.), I can safely say that they're some of the best gigs you can go to. Why do I say this? Well, Crowns are setting off on tour soon (and I imagine they will be on tour a hell of a lot), and I urge you to go see them. Having listened to this remarkable EP over and over again, I can safely say that they will put on one hell of a show.
Written by Andrew Roberts