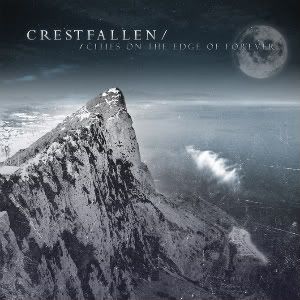 Release Date: August 27th, 2010
Label: Unsigned
Website: None available
MySpace: www.myspace.com/crestfallenonline
Rating:


Southampton bred CrestFallen (not be confused with the Virginia-based punk rock band of the same name) are taking their first real steps into the music industry world with their debut EP 'Cities On The Edge Of Forever'. Already the band are facing some difficulties and complication, with guitarist Woody leaving soon after the EP's release for educational commitments. This isn't the be all and end all already though, and with a debut like this CrestFallen have plenty to look forward to.
The speech leading opener 'The Truth Will Set You Free' about religion, institutions and lies plunges is in appropriately into the first real song 'Disclosure'. Though the transition from opener to track could've been done much better, 'Disclosure' starts off like a heavy weight hitting your chest sending you back into a city on the edge of forever that the band have built, bludgeoning until the final minute where harmonies flip you into another sense of reality.
More approachable and welcoming harmonies and melodicies come thick and fast throughout the heavy main attack, creating a sound similar to Evita and Bury Tomorrow. 'Elysium Plateu' brings you the feeling of dropping you into a deep dark pit with its exceedingly low bass and guitar line intro, before bringing up to a level of safety with its affirmative chorus and shaking you on the way with demonic screams.
Standing out as the EPs best track strong and proud is the more hardcore weighted 'Behold A Pale Horse', injecting one of their catchiest of catchy choruses in a constant loop in your head. A member down maybe, but with a debut effort like this the last thing something like that should do is phase the young Southampton metalcore outfit. What's more is they're offering it for free via their Facebook page, so get on it!
Written by Zach Redrup