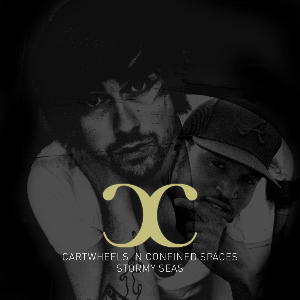 Release Date: November 1st, 2010
Label: Unsigned
Website: None available
MySpace: www.myspace.com/cartwheelsinconfinedspaces
Rating:


Cartwheels In Confined Spaces' name says it all. Imagine trying to actually do that: a cartwheel in a confined space. It would be hard wouldn't it? Unless you're an Olympic gymnast or something. Their chosen genre of music (a sort of mix between dance and electro-pop) is like the meaning of their name; hard to pull off successfully unless you're gifted. And with reference to their music, unless you have a knack for producing catchy beats and lyrics that will stay in the listener's head for days you may as well give up, because the market is clogged up with bands who think they have what it takes, but fail to capture the listener's attention. Sadly, Cartwheels In Confined Spaces fall right into this said category.
From the first song 'A Storm's Comin", you know what the rest of the songs on the 4-track EP are going to be like. It starts with synth that wouldn't sound out of place on a 90's dance track, and then rapping style vocals emerge accompanied by recurring beats and claps. It sounds like something that a child would be able to make up on a toy keyboard, and whatever Cartwheels In Confined Spaces are trying to do here doesn't work. It simply bores, and comes across that the song was written very quickly just because they thought they should include an intro song. It doesn't really get any better from there on either. The first real track 'Stormy Seas' ends where the opener left off: claps, synth that is painful to listen to and a backing track that sounds like it was already programmed into the keyboard. This time though, vocals that are sung are mainly used but they're not any better than the rapping. In fact, they are considerably worse. Out of tune, struggling to balance with the dance music, and it also sounds like vocalist Mike Pheasant can't be bothered, and sounds more bored and tired than anything else.
Single 'Girl Shaped Hole' is presumably a song about a break-up. The music in this song is better than the others, and it's very clear why they've released this. The vocals work, it doesn't sound too forced, and it's the best thing you're gonna find on the EP. The lyrics show why the song could be about a break-up: "I'm missing the days I didn't care at all / I wanna go back to comfort / I found comfort in you". The only thing that lets this song down is, once again, the rapping. It would work much better if they were left out, because frankly the guy can't rap, and the band make for a much better and fluid listen when they are left out.
Cartwheels In Confined Spaces are hitting a genre that is dead. Perhaps if they went back to the early 00's and 90's then their music would work, but in this day and age, if you choose to use dance backing tracks and a lot of synth, you need to have something else as well as those two styles to stand-out. Enter Shikari and Genghis Tron are two bands that come to mind, but Cartwheels In Confined Spaces lack the bite and aggression of these bands, and would be most suited to an audience of children who don't know anything better about music.
Written by Rhys Milsom
Founder & Editor for DEAD PRESS!