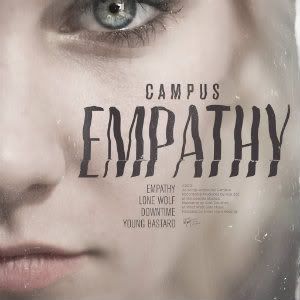 Release Date: May 28th, 2012
Label: Small Town Records
Website: www.campusofficial.com
Facebook: www.facebook.com/camupsbe
Twitter: www.twitter.com/campustheband
Rating:

Campus have had an amazing year so far, sharing stages with the likes of While She Sleeps, Cancer Bats and Vanna, and to top it all off they have produced this outstanding EP, 'Empathy'. What Campus have created here is a very contemporary sound, fitting in with their metalcore peers whilst also shining out from them.
Title-track 'Empathy' is a strong combination of swinging riffs and anthem-like choruses. The guitar work is masterful; the lead parts really pushing the feel of the song which would, no doubt, be sorely missed without them. In typical metalcore fashion, the vocals switch from screaming to singing in the verses and choruses respectively, begging for the listener to sing along. This, with the mammoth breakdown towards of the end of the track, is perfect for a live scenario or simply just throwing down in your bedroom.
'Lone Wolf' takes a slightly darker tone; a long, building intro with the lyrics "how did it come to this?" repeated again and again before dropping into a riff to end all riffs. Noisy, sharp chords with an off-time feel push up the aggression and energy. Singer Martijn Leenaers' vocals effectively switch from screaming to a rough singing once again, but unlike many metalcore bands, the transition is seamless: something very hard to perfect. The anger that is both conveyed and produced makes this the superior track of the EP.
The sour notes and sombre mood continues with 'Down Time'. Low and simplistic verses make this track less of a 'mover' and is far less energetic. However, heavy breakdowns and technical interludes keep the music interesting. The modern style of song-writing is very impressive with no obvious repeats of choruses. Also sliding in and out of changes is almost unnoticeable; a very well-constructed track.
Upping the aggression once again, 'Young Bastard' rounds off the EP. This time the choruses are more obvious and you find yourself singing along to the melody. This, strung together with fast-paced verses, ticks every box before gradually diving into a sorrowful outro, leaving a bad taste in your mouth.
'Empathy' is clever, finely developed and very contemporary. It holds its own amongst a genre where there are far bigger bands and is by no means an imitator. Their next full-length will be highly anticipated.
Written by Jack Birch