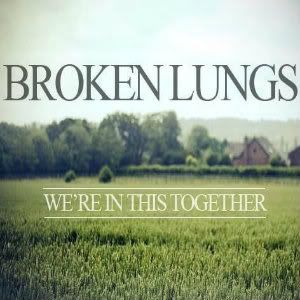 Release Date: June 11th, 2012
Label: Xtra Mile Recordings
Website: www.futureoftheleft.net
Facebook: www.facebook.com/futureoftheleft
Twitter: www.twitter.com/shit_rock
Rating:


Unbelievably, four piece Broken Lungs originated late last year and one surety about the Liverpool lads is that they don't mess about. Their EP 'We're In This Together' is a five-track, clean and simple pop-punk EP. It's nothing astoundingly life changing, nor does it makes the simple human being want to delve into their soul, but it's a brilliant debut from a band that have, well, got their shit together.
Broken Lungs, credit where credit is due, have thrown their heart and soul into this EP. They thrive where other bands wither, by knowing what they want and they definitely go and get it. Opener 'We Stand Tall' rockets the EP into a taste of what Broken Lungs are all about. Karl's vocals are super radio friendly, the bunch are a talented bunch. 'We're In This Together' has everything, 'Try As I Might' is the track that plunges them to social networking stardom and 'Alleyways' is the key record.
The band make it all sound so effortless, and the jump into the stripped down finisher 'Lost At Sea' is a massive surprise for the listener. A straightforward acoustic guitar hook, opening with "At the end of this road / I'll be nothing but skin and bones", there's a genuine sincerity in this track. It's a little City And Colour and a lovely contrast to the rest of the EP.
If you like bands like Mallory Knox, Francesqa or even a toned down Four Year Strong, Broken Lungs are your boys. They're no Beatles, but the four piece definitely deserve their glory.
Written by Sian Hodkin