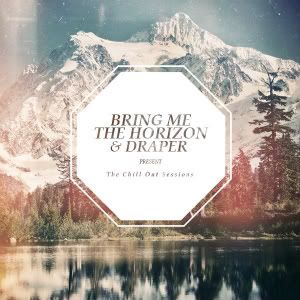 Release Date: November 22nd, 2012
Label: Unsigned
Website: www.bringmethehorizon.co.uk
Facebook: www.facebook.com/bmthofficial
Twitter: www.twitter.com/bmthofficial
Rating:

Having embraced electronic elements so consummately with 2010's spectacular 'There Is A Hell, Believe Me I've Seen It. There Is A Heaven, Lets Keep It A Secret.', not to mention a full on remix album with 'Suicide Season: Cut Up', the appearance of yet other collection of atmoshperic re-imaginings from Bring Me The Horizon is certainly no revelation. Although, working here with producer/'chillstep' artist, Draper, 'The Chill Out Sessions' delivers a wholly new experience for BMTH fans as a distinctly sedate and delicate ambience proves to be the order of the day.
Indeed, as the acoustic intro to 'Crucify Me' drives through the sumptous vocal refrains from the guest appearing Lights, the song is quick to establish the vibe for proceedings. Floating gently on a bed of twinkling florishes and understated melodies, the track bleeds flawlessly into 'It Never Ends', which more than matches its predecessor with some orchestral swells and a very slight dubstep bounce inamongst the sweeping guitar strokes.
The highlight here though comes from an exquiste take on 'Blessed With A Curse', a track which is already somewhat of a slow burner in the band's canon. Utilizing the song's bluesy licks to fantastic effect, the minimalist percussion and surging soundscapes makes for an atmosphere as soothing as it is compelling.
Bring Me The Horizon have provided fans with a deliciously entertaining treat here. A refreshing alternative to the raging metal that is the band's bread and butter, 'The Chill Out Sessions' retains the emotional charge ever present in the Sheffield quintet's craft, working just as effectively within these simmering compositions as in the established full throttle riffage. A welcome gem.
Written by Tony Bliss