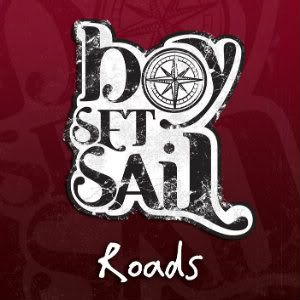 Release Date: July 19th, 2012
Label: I Am Mighty Records
Website: None available
Facebook: www.facebook.com/boysetsail
Twitter: www.twitter.com/boysetsail
Rating:


The 'Roads' EP is release number two for these Welsh rockers. This three track EP is being offered to you lovely people for free and you can get a hold of it here. Isn't that nice of them? I actually reviewed their first release a while back and although gave them credit for their energy and charm, I criticised them for their lack of diversity between songs and the scene they were trying to break into.
Given that there are only three songs, it's hard to tell if they have broadened their sound. But going on what is on offer here, you can tell they have made some progress. The songs are still as happy and bouncy as they were before, but now the lyrics seem to flow better. It's still undoubtedly your standard pop-punk sound but the songs are generally better written, the choruses are catchier and the verses are well constructed. Take 'Say What You're Thinking' for example; a slow and structured start with good guitar work which seamlessly blends into a vibrant chorus. There's even a guitar solo thrown in there too.
Judging them on the progress that they've made since their first release, I reckon by the time they release an album they will have their sound nailed down and be ready to take themselves to the next step. The 'Roads' EP is a good step forward for Boy Set Sail and while it may not be a mind blowing spectacle of music, it's a great little EP and a joy to listen to. Like I said before, it's free so you may as well give these guys a listen. Who knows? You may even like them.
Written by Andrew Roberts