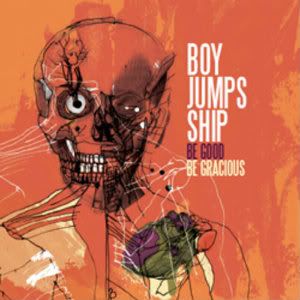 Release Date: May 28th, 2012
Label: Unsigned
Website: None available
Facebook: www.facebook.com/boyjumpsshipmusic
Twitter: www.twitter.com/boyjumpsship
Rating:


Alternative rock quartet Boy Jumps Ship hailing from the North East of the UK have followed up 2011's 'Engines' with a new EP, 'Be Good. Be Gracious.'. The growth between these EPs is noticeable, with the latest release boasting instrumental work similar to that of heavyweights Biffy Clyro and a vocal approach like a rougher version of the now defunct Francesqa's Ashley Wilkie. This makes for 4 tracks of impressive work that leave the listener wishing the band had made a full-length album.
Opening track 'Black Hearts Don't Beat' kicks off the EP as it will continue; fast-paced with a chorus that utilises the band's gang vocals successfully enough to have listeners singing along. Thankfully there's also some diversity across this short record, as 'Let Me In' relaxes the raucous guitar work, providing a more melodic atmosphere than the chunky rock riffs and furious drumming of earlier tracks.
The band really come together and work well on the highlight of the EP, 'Fugitives', which boasts incredibly catchy guitar work before the fast-paced vocals maintain the songs rhythm. Backing vocals also feature throughout the song and demonstrate what the riotous crowd will be yelling back to the band at live shows.
Boy Jumps Ship have created an exciting release with 'Be Good. Be Gracious.' and have definitely made progress from their previous offerings, but as soon as your really getting into their sound, the EP comes to an end. Hopefully it won't be long before they return with a full-length album that will really get everyone to sit up and take notice.
Written by Jonothan Barlow