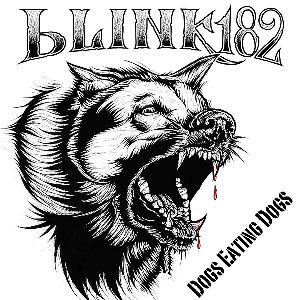 Release Date: December 18th, 2012
Label: Unsigned
Website: www.blink-182.com
Facebook: www.facebook.com/blink182
Twitter: www.twitter.com/blink182
Rating:

Considering the revitalized success that Blink-182 have recently hit upon following a series of rabidly received live dates, it's no surprise that 'Dogs Eating Dogs' has been seemingly hurried into the clutches of eager fans now hungry for the band once again. However, what is surprising is that, all cynicism aside, this stop gap EP contains what is unmistakably some of the trio's strongest material for quite some time.
Once the dread inducing intro to opener 'When I Was Young' quickly fades from its shimmering Angels & Airwaves-isms, the pace picks up and an explosive chorus (with some undeniably nostalgic DeLonge/Hoppus vocal entwine) cannot fail to raise a smile for long time devotees as a rollicking slab of classic Blink is delivered with such a gusto and vigour that it could have been recorded fifteen years hence.
The following title track is equally as evocative, with Mark taking the mic for a full throttle number chock full of up tempo punk beats and, once again, a stadium sized chorus. 'Disaster' impresses with some towering melodies and a rather grandiose, ambitious ambience. Indeed, what's most apparent here is the rather seamless meld of the what Blink-182 were and where they're going. For every anthemic hook or delay pedal sparkle, there's a power chord wig out or a double time, adolescently fuelled drum pattern, and the recipe is as exciting as anything we could have hoped for a band that could easily choose to rest on their laurels until their career peters out.
The real sticking point for 'Dogs Eating Dogs' will, somewhat disappointingly, come with the closer, 'Pretty Little Girl', which features a minor appearance from rapper, Yelawolf. Although the thirty seconds of trendy warbling is certainly nothing remarkable, it's just as certainly nothing offensive and takes little away from a track which succeeds everywhere that it should. The message boards will still be pandemonium, however.
For anyone that lived through the pop-punk golden years of the mid/late nineties, it is an unbridled joy to see Blink-182 making music this satisfying once again. Evidently having swept their differences under the carpet and recaptured a simple love of what they do so well, we can all but hope that this relationship endures, as on the evidence of 'Dogs Eating Dogs', the right frame of mind is yielding stirring things for Blink-182.
Written by Tony Bliss