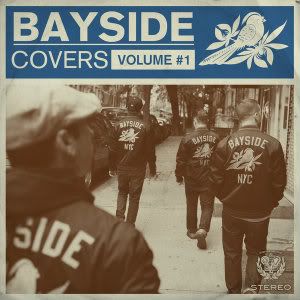 Release Date: October 23rd, 2012
Label: Gumshoe Records
Website: www.baysidebayside.com
Facebook: www.facebook.com/bayside
Twitter: www.twitter.com/baysideband
Rating:


After 12 long years, these New York punk rockers are still going and they're stronger than ever having proved so with their latest release, 'Killing Time'. To keep the fans satisfied between records, Bayside have whisked up a little EP of covers. This is a great idea because not only will it bridge the gap between albums, but is also means that they have some covers in the bag for their live shows.
As expected, these covers are executed so very well. Anyone can cover a song, but what makes a great cover is when a band takes a song and makes it their own, like Reel Big Fish's cover of 'Take On Me'. Well, Bayside have done just that and reworked the songs to include some fantastic guitaring as a vibrant rhythm that the genre is known for. Not to mention vocalist Anthony Raneri is completely on form with this EP and sounds superb in every song he attempts.
Their selection of songs is perfect too, choosing some of the lesser known yet still brilliant songs from the 60s and 70s. For example, they do a wonderful cover of The Ronettes' 'Be My Baby', that still carries the essence of the 60s though the harmonies in the chorus. Not to mention their spectacular rendition of Billy Joel's 'Movin' Out', paying a tribute to their home state no doubt.
It's kind of hard reviewing a covers record; you can't praise the band for coming up with the songs and most artists cover songs reasonably well. Having said that, I will say that this is one of the best covers releases I have heard since Zebrahead's 'Panty Raid'. You can tell that the band adore each and every song they cover and that really shows in the quality of the covers. I know it's cheesy to say that they put their heart and soul into it, but they really do.
Go give this a listen, there will be at least one song on here that you'll recognise and I guarantee that you will find something to love about this EP.
Written by Andy Roberts