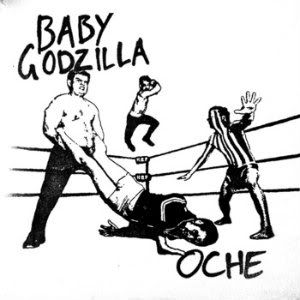 Release Date: January 1st, 2012
Label: I'm Not From London
Website: None available
Facebook: www.facebook.com/baby.godzilla.bastard
Twitter: www.twitter.com/baby_godzilla
Rating:


Baby Godzilla are now two and half years old (having formed in October 2009) and like a 2 and half year old, they're filled with a catastrophic amount of energy and ready to ruin your life. Their 'Oche' EP is like listening to a 25 minute tantrum from the world's most well read toddler. Imagine if Clutch and Every Time I Die had a baby and then they gave that baby to The Dillinger Escape Plan to raise, then you would get Baby Godzilla.
With a few little sound bites thrown in here and there, like little croutons amongst a musical broth, they have produced a damn fine EP. Take, for example, 'Thotty', it's a wonderful amalgamation of cut throat metal energy blended with rhythmic blues vibes that, quite frankly, I could listen to all day. In fact, the whole fecking EP is just one outstanding song after the next, so before I go ahead and give it a massive blowjob, I have to put on my reviewer hat and give a few honest comments:
Honest comment number 1. When I start listening to a band, it's usually when they are two or three albums in and by this point, the vocals are a little more polished and the songs are constructed a little better. But, given that this is one of their first records, they have their sound pretty much nailed down and the vocals are pretty damn good too. Honest comment number 2. Intro song 'At The Oche' royally lulled me into a false sense of security with its incoherent and poor vocals and it will do that to you too. But, if you can make it past that song, the payoff is SO worth it.
Now for the shameless metaphorical dick sucking: Oh. My. Word. This is the single greatest thing I have been given to review all year. Seven tracks of sheer metal bliss, overflowing with creativity and bite-sized riffs. If this EP were a woman, it would be a Christina Hendricks, smart, witty and waaaaaaaaaay out of your league and mine (and if any of you disagree, you are all clearly gay). As for the impromptu Nirvana cover snuck in at the end of the EP, well, it was the cherry on an already delicious looking cake.
Having seen them live, I can safely say that they're going to go far. Being this good so early on in their career means that things can only work out for these Nottingham lads. This isn't the greatest record I have ever listened to, but my god, it's still a mighty fine listen. So fine in fact, that Baby Godzilla instantly made their way into my top 10. Get out of the way 30 Seconds To Mars, you whiney little bitches, Baby Godzilla have taken your place. In summary, this EP is fucking amazing and if you think otherwise you're wrong.
Written by Andrew Roberts