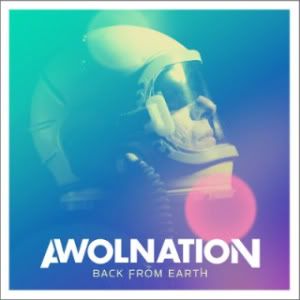 Release Date: November 8th, 2010
Label: Red Bull Records
Website: www.awolnationmusic.com
MySpace: www.myspace.com/awolnationmusic
Rating:


Former Under The Influence Of Giants frontman Aaron Bruno has brought a great deal of refreshing originality and experimentation to the table with his new project AWOLNATION. Shoving in elements of disco, punk rock, electronica and indie rock amongst others into one flurried blend, 'Back From Earth' is a musical smoothie that surprisingly goes down nice and smooth.
Opener 'Burn It Down' brings a small frantic techno line buried underneath a upbeat and dominating drum beat, and Aaron's raspy and erratic vocals. It sets the stage slowly yet efficiently, ensuring that AWOLNATION isn't shoving too much down your throat too early, and leads into the steadily paced 'Guilty Filthy Soul'. Sadly the EP brings a little disappointment, with the dense in cuss words track 'MF' coming off as a little infantile and immature compared to the other tracks surrounding it, and lowers the tone for from 'Back From Earth' initially set. Still, if you're after a more electro beat and something to jump about to then the InnerPartySystem remix of 'Burn It Down' is definitely your cup of tea.
The thing with 'Burn It Down' is that no track AWOLNATION delivers sounds like a slight changed imitation of the tracks that preceeds or follows it. There's no idea what could flow out of Aaron Bruno's creative flow next, but with what's showcased on this EP its doubtful to be of anything disappointing.
Written by Zach Redrup