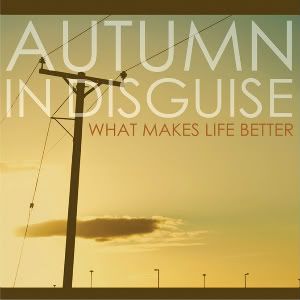 Release Date: November 18th, 2011
Label: Unsigned
Website: None available
Facebook: www.facebook.com/autumnindisguise
Twitter: www.twitter.com/aidisguise
Rating:


Overall, 2011 has been a pretty good year for the re-invention of rock music. Bands such as Deaf Havana, You Me At Six and the now late Francesqa (RIP) have all helped make rock music more accessible by teaming meaty riffs with, dare I say it, boy band-like vocals and -for the most part – to great success.
Now though there's some fresh rock energy straight out of sunny old Scotland in the form of Autumn In Disguise. Following their debut EP, 'What Makes Life Better' is almost, as they call it, a mini-album. For the most part, 'What Makes Life Better' shares a lot of the same qualities as the bands they have performed with, like Four Year Strong and Yashin. There's a distinct energy throughout the album, and opener 'The Games Begin' is a solid start. Tough guy riffs crash around your ears as lead singer Mike Hendo's vocals sooth your eardrums with a story of treating girls right.
'White Lies' has a little bit more ferocity injected into it in the form of some crowd chants and pretty hectic backing vocals, pushing the track in a bit more of a hardcore direction, which is good if you have a harsher musical taste. Coupled with furious fret work from guitarists Stephen Napier and David Gonella, 'White Lies' is probably one of the better tracks on the album.
If you do have a harsher taste don't get too excited, as the little outbreaks in 'White Lies' are by no means a permanent fixture throughout. The EP's title-track 'What Makes Life Better' could be considered to be the token ballad of the release; slower in tempo and with more harmonious vocals, it's definitely a solid rock tune.
On the first listen, it's sometimes difficult to distinguish a difference between some of the songs, such as album enders 'Where The Hell' and 'Let's Call This A Home Run'. However, given time, it's not the hectic riffs but the elegant vocals that carve a clear difference between the tracks, and it's hard not to admire the young Mike Hendo for his obvious talent.
If you're a fan of the pop-rock/pop-punk scene, then Autumn In Disguise will certainly make a great addition into your musical fixture. A fun and energetic EP full of honesty, great riffs and some captivating vocal work, they are most certainly a band to keep an eye and ear on.
Written by Steven Potter