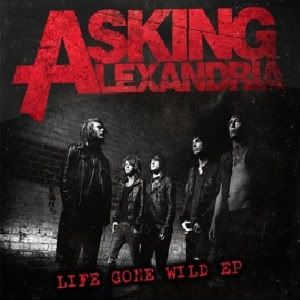 Release Date: December 21st, 2010
Label: Sumerian
Website: None available
MySpace: www.myspace.com/askingalexandria
Rating:


A few months prior to the release of their upcoming remix album 'Stepped Up And Scratched' and their sophomore effort 'Reckless And Relentless', York sextet Asking Alexandria have decided to push whatever's left of their debut 'Stand Up And Scream' one final time with a small 6-track EP, entitled 'Life Gone Wild'.
Though to die-hard and dedicated fans this is another addition to their following of the young Yorkshire 6-piece, to all else 'Life Gone Wild' will commonly disregarded, and arguably rightfully so, as a quick fix attempt for some more cash. The two Skid Row covers, though from the horses' mouth were "just for fun", sound a little half-finished and lacking in that extra bit of effort that could make them far more justifiable remakes. The dubstep remix of 'Not The American Average' sounds a little pointless and dull, and the demo of 'I Was Once, Possibly, Maybe, Perhaps A Cowboy King' is only really a valid addition to those who want to collect everything in their entire catalogue.
The new song 'Breathless' brings some merit to the release though, aswell as wetting the appetite of those eager to get their grubby mits of some fresh new material. If the one track is anything to go by, 'Reckless And Relentless' will be miles above their debut in several ways, and may final be the first calling card into Asking Alexandria getting some true recognition and respect.
'Life Gone Wild' ultimately falls flat as just something to grab some money. Unless you're a die-hard fan or just can't wait for the new album any longer, you needn't really bother with this.
Written by Zach Redrup
Founder & Editor for DEAD PRESS! | Atheist and antitheist. | Judge of the quick & the dead since 1989.