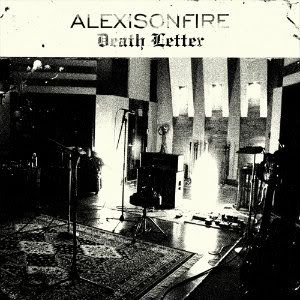 Release Date: December 4th, 2012
Label: Dine Alone Records
Website: www.theonlybandever.com
Facebook: www.facebook.com/aofofficial
Twitter: www.twitter.com/aof_official
Rating:

Gone but not forgotten. In preparation for their farewell tour, guitarists and vocalists Dallas Green and Wade McNeil of post-hardcore pioneers, Alexisonfire, have put together a 4-track EP containing re-imaginings of choice cuts from their back-catalogue. This epitaph of sorts is a final thank you to fans and a fittingly sombre curtain call on what has been an inspiring career.
Recorded in their native Canada, the tracks are a fitting tribute to the band's career. The interpretations are free form and loose, most likely jammed out spontaneously as opposed to a measured and deliberate idea. 'Born And Raised' fits perfectly in its new folk surroundings, and the joint vocals from both Green and McNeil work as well together as they ever have.
It wouldn't be unfair to say that Green takes the reigns on the majority of the tracks, with the songs resembling his now-day-job more than anything else. This isn't to say it's a vanity project at all, the new versions stand extremely well on their own. Stand-out track 'You Burn First' is a complete departure from the original recording; full of haunting, delay soaked guitars, tribal drums and some outstanding vocal work. You'd be forgiven for assuming that every track on 'Death Letter' would be a straight up country affair, but here pulsing synths elevate the track to a whole new level.
If there was one gripe to be had with this collection it would be the somewhat questionable track listing. With so many seminal records to choose from, you wonder how 'Accept Crime' made the cut when tracks like 'No Transitionary' and 'Boiled Frogs' remain overlooked. However, it's hard to begrudge the band for this as a 6-track collection of intelligent and interesting re-workings is above and beyond what most bands that broke up over a year ago would deliver.
The EP closes out with 'Happiness By The Kilowatt', arguably the band's most influential and beloved track. Again, reverb and delay covers the guitars, rendering them more of an atmosphere than an instrument, this coupled with the melancholy of the piano makes for incredibly satisfying listening. McNeil and Green remind everyone why the world will miss hearing their voices working together by delivering a staggering performance where most would have merely phoned it in.
These 6 tracks remind you why you'll miss Alexisonfire and create an overcoming impulse to listen to their entire back-catalogue. The only question is, which one of their four flawless albums will you start with?
Written by Alex Garland