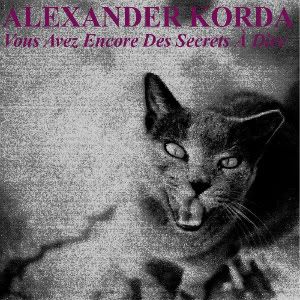 Release Date: September 30th, 2011
Label: L'Amour Records
Website: alexanderkorda.bandcamp.com
Facebook: www.facebook.com/tanglewoodpunx
Rating:


Alexander Korda's light and shade take on hardcore punk, constantly switching up between delicately picked clean sections and heavily distorted walls of noise, is certainly nothing new. Indeed, when listening to the American quartet there are many reference points that spring to mind, such as the emotional intensity of such modern heavy hitters as Orchid, yet, of course, these sorts of comparisons can in no way be construed as a bad thing.
What is most striking about the band's sound however is the visceral, raw aggression that they manage to portray. Tracks such as the blast beat fuelled 'Playing Lord And Haven Simultaneously' and the turbulent 'We Fall Woefully Short' play out with a sonic violence that is truly invigorating, thanks in no small part to an enraged vocal delivery, with the barrage of high end shrieking packing a serious punch.
Indeed, what Alexander Korda manage to do so well is balance these blasts of venom with a series of understated spoken word passages and fragile guitar work, consistently generating waves of tension, building atmosphere until the torrents of instrumental fury break, making these rabid sections all the more affecting. As already said, this has undoubtedly been done before, but when you do it this well there is always room for more.
Playing out at just over ten minutes, 'Vous Avez Encore Des Secrets Á Dire' acts as a great example of potential. It is raw, immediate and whilst by no means perfect has a sincere and heartfelt quality which makes it a wholly engaging release. A commendable first effort.
Written by Tony Bliss