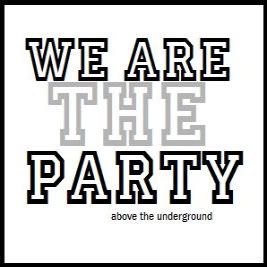 Release Date: November 18th, 2009
Label: Unsigned
Website: None available
MySpace: www.myspace.com/abovetheundergroundmusic
Rating:


Claiming to be "the party" is a very bold and forward statement for any band to make, especially one as unknown as Above The Underground. Speaking of which, the band's name itself is exactly the same, stating that they are above all other underground acts. Surely this isn't the aimed intention of the Middlewich pop-punkers, and debut EP 'We Are The Party' is definitely a 5-track capable of partying along to.
Still young, it shows that the band need to work on a few kinks here and there, but that's normal, and more than achievable in due time. The group's influences shine through clearly too, with the Four Year Strong-esque gang shouts and chugging in tracks like the Twilight bashing 'What's The Big Deal With Vampires Anyway?' and 'Adam Vs. Team Rocket', synth support alike The Rocket Summer in tracks like 'We Are The Party (Anthem)', and just straight-up pop-punk a kin to Blink-182 on 'Ordinary'.
The ground foundation is clearly there, all they need to do now is set up the main support beams to take it further. Well, get on it boys!
Written by Zach Redrup