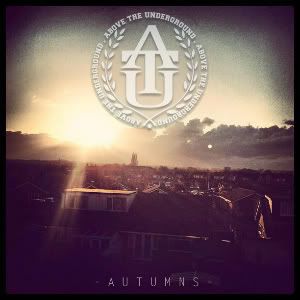 Release Date: May 18th, 2012
Label: Lazy Bear Records
Website: www.abovetheunderground.net
Facebook: www.facebook.com/abovetheundergrounduk
Twitter: www.twitter.com/atumusicuk
Rating:

When you ask people what they know about the city of Chester, an upsetting amount will bring up Hollyoaks. This is doubly upsetting for us folk who were born and raised in this walled city. Our music contribution was hardly top notch either, boasting that Lee from Steps who went to college here. This looks set to change though, as Above The Underground enter with their latest EP, 'Autumns'. This pop-punk four-piece have created a release packed with catchy hooks and huge choruses that will keep fans of the genre eager for more.
The EP kicks in with opening track 'Anchors', which was also featured on 'Lazy Bear's Definitive Guide To Pop-Punk 2011' compilation towards the end of last year, and with good reason too. This song immediately demonstrates the band's ability to create top quality music with the angst-ridden vocals of frontman Will Kirkman tearing through the melodic setting. The gang vocals that feature throughout this song serve well to bridge the gap between chorus and verse, and add some more bite to a very catchy song.
People quick to judge all pop-punk music as a combination of repetitive power chords churned out over 4 minutes will be pleasantly suprised by instrumental track, 'Lights'. This displays the sheer talent of this line-up which is completed by guitarist Al Kirkman, bassist Nick Barlow and drummer Brandon Icely. This instrumental talent is also demonstrated on the fast-paced 'Close Your Eyes & Drive', which features a great vocal performance from Kirkman. The highlight of the EP however has to be 'Under The Weather', which shows each band member at the top of their game ensuring that the song will be stuck in your head for the long haul. Again, Kirkman pushing his vocals on the chorus works brilliantly.
Above The Underground have created a great EP here which is a must have for any fan of the pop-punk genre. This is impressive for an unsigned band, especially considering how close to saturation point the pop-punk market is right now. Hopefully, with this under their belts, the band can really take off and give my neck of the woods a name for something other than the fictional suburb of insanity that has been plaguing us for far too long.
Written by Jonathon Barlow