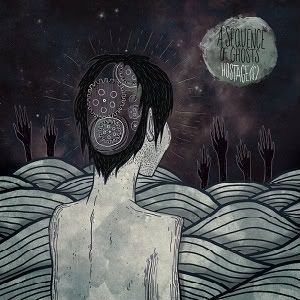 Release Date: April 29th, 2011
Label: Unsigned
Website: None available
MySpace: www.myspace.com/asequenceofghosts
Rating:


A lot of people out there look at Christian music as something not for them, something preachy and it tends to be perceived badly by some of those who are without religion. A Sequence Of Ghosts literally tear this concept to pieces and throw it to the ground, bringing you fantastic ambient hardcore that you would not differentiate from anything in the current scene at the moment.
'Hostage(s)' is the latest EP release by the band, and gives you five fantastically powerful tracks, each as good as the last, with a stand-out message of self-worth and love of God, you can see why this band should be a very big hit among all fans of hardcore. If you're looking for something heavier that also promotes a healthy message, then you needn't look any further than A Sequence Of Ghosts.
I personally love this EP, a great selection of tracks that flow brilliantly one after the other, bringing a variation of hard hitting hardcore and ambient beats on the back of the emotional lyrics of singer Jesse Conn. The band have an outstanding touring pedigree, and it's easy to see these tracks definitely being translated very well into an electrifying live performance.
The only thing I can really criticise from this band is the few instances where they drop the tempo and bring in a different voice to the song. It doesn't sound bad, but it breaks up what would be a brilliant song. For example, about half way through the fourth track 'The Politician', they go from a high tempo verse into a very slow instrumental which just seems to break up what was working so very well.
Another song where they should've kept the tempo high is 'The Hostage'. The introduction of female vocals over a slow melodic beat wouldn't have been as good as if they just carried on with the higher tempo hardcore. Neither of these points ruined this EP in any way, but it just feels like the songs would have flowed better if they maintained the high tempo.
A Sequence Of Ghosts have only recently celebrated their one year anniversary as a band, and on the back of 'Hostage(s)', I can certainly see them carrying on and getting much bigger in the hardcore scene.
Written by Julian Myles