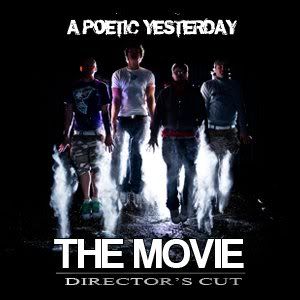 Release Date: October 31st, 2011
Label: Banter Music
Website: www.apyarmy.com
MySpace: www.myspace.com/apyarmy
Rating:


You know what sucks? When a band releases a brilliant album, but then follow it up with nothing. No word of a follow-up, no tour, no anything. Well, that's exactly what happened when I stumbled upon A Poetic Yesterday. Their debut album 'A Little South Of Zero' was a pummelling mix of raw vocals, hard hitting riffs and massive songs. Then, for some reason, they appeared to have vanished. Thankfully, APY are back with their new EP, entitled 'The Movie: Director's Cut'.
The original cut of the song was featured on 'A Little South Of Zero', and back then it was a huge, hard hitting number. Now, after a little bit studio mastery, it sounds absolutely fucking huge. Whilst the song was previously made up of visceral screaming, on this version it takes a back seat to the raw, gritty singing of Gavin Stewart. Whilst it's clear that the band have changed their sound towards a more melodic one, they still have enough Funeral For A Friend-esque grit and power to please many people.
As for the rest of the EP, it's bloody good listening. Two slower tracks (a fantastic acoustic version of the title track and a beautiful new arrangement of 'I Can Sea The Seller'), a cover of the UFC theme song which adds a sense of fun to what is a pretty serious (in a great way) affair. The EP is concluded by two new songs, 'Same Old, Same Old' and 'Frozen Proud', and whilst it's clear the band are heading for more melodic pastures they still pack the same hefty weight and crunch that they always have done. If the new tracks are anything to go by, the band's forthcoming sophomore album 'Revolutions' is going to be one heck of a record. A fantastic return from these lads, shame it's only an EP.
Written by Oliver Thompson
Founder & Editor for DEAD PRESS! | Atheist and antitheist. | Judge of the quick & the dead since 1989.