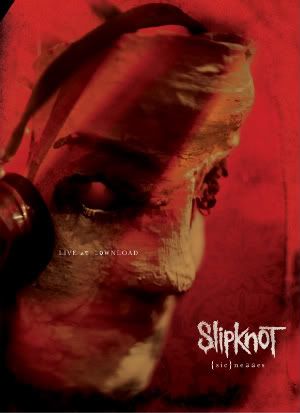 Release Date: September 27th, 2010
Label: Roadrunner Records
Website: www.slipknot1.com
MySpace: www.myspace.com/slipknot1
Rating:


On May 24th 2010, Paul Gray, founding member and one of the main songwriters of the Iowan metal band Slipknot was found dead, later discovered to be down to an accidently overdose of morphine and fentanyl aswell as signs of significant heart disease. With the future of the band currently uncertain, there has been much distress and concern from the fans (or maggots) as to whether there'll ever be another Slipknot release again. Thankfully, a new DVD in memory of their fallen bandmate and friend documents one of the last major performances of Paul Gray in the band, and also one of the group's most prolific performances of their career. '(sic)nesses' sees the band's headline slot at Download Festival 2009, and is an exceptional snapshot into exactly why Slipknot are one this generations most important and successful metal bands.
Taking place on the 10th anniversary year of their debut eponymous record, 2009 couldn't have been more of a fitting year for Download to hold Slipknot as one of the weekend's main stage headliners, and they don't take such an honourable position lightly. With many rumours at the time suggesting the band would play their debut record in its entirety, the band play tribute to the record by instead playing the album's opening four tracks. '(Sic)' is delivered with a brutality that has remained intact even a decade since its creation, and 'Wait And Bleed' shows a melodic nature that has only gotten stronger over time.
Percussionists Chris Fehn and Shawn Crahan add thickened layers to Joey Jordison's already overpowering and prominent lines and beats, and their snare drum rolls through 'Psychosocial' and 'The Blister Exists' sound like they're attempting to call an army of dead from the depths of Hell. Corey Taylor stands out as one of today's most talented, charismatic and versatile vocalists in metal today, and constantly details his appreciate for the fanbase's support over their career. The lightning fast yet precise and strong finger work of fret frantics Mick Thompson and Jim Root come through at their best with the solos of 'Vermilion' and 'Sulfur', the gritty scratches from DJ Sid Wilson in 'Everything Ends', and of course the trembling and deep as sea bass grooves of the now late Paul Gray shines the brightest in 'Left Behind' and 'Eyeless'. One of the biggest highlights is the sea of 80,000 festival attendees, rising to Corey's grunt of "Jump the fuck up!" in erratic and blistering set closer 'Spit It Out'.
Ultimately, '(sic)nesses' is a great memory and tribute to one of the most important cogs in the Slipknot machine, Paul Gray. Those unfortunate to not be there that night have a chance to live one of the greatest final shows of his career, and if the demise of the band is just around the corner it's a perfect send-off to a hugely successful and influential band. R.I.P. Paul Gray.
Written by Zach Redrup