THIS COMPETITION IS NOW CLOSED! ALL ENTRIES WILL NOW BE INVALID!
After headlining one of the stages at Hevy earlier this month and also on the verge of releasing their highly anticipated debut album 'City Of Vultures', things are looking pretty good for Rise To Remain right now. We managed to get our grubby paws on one of the band's album posters, signed by each member of the band (shown below), and felt we'd be nice and share it with on of you luck readers.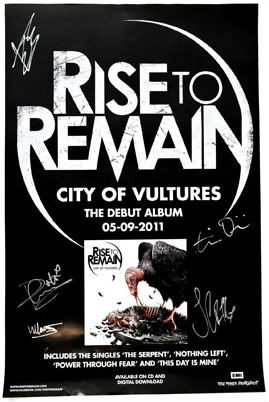 For your chance to win the signed poster for yourself, all you've got to do is answer the following question correctly:
What famous rock band is frontman Austin Dickinson's father Bruce Dickinson in?
Send your name and address along with your full answer to us at deadpress@hotmail.co.uk, with the subject title as 'Rise To Remain poster'. Answers left as site comments WILL NOT be accepted, only email entries will be valid. Competition closes on September 5th 2011.
Good luck!