THIS COMPETITION IS NOW CLOSED! ALL ENTRIES WILL NOW BE INVALID!
Music publication Kerrang! magazine always like to get the year off to a good start with a full UK tour hosting a selection of some of today's more highly anticipated acts. This year's line-up consists of Fearless Vampire Killers, Tonight Alive, Chiodos and black adoring headliners, Black Veil Brides.
We've teamed up with the lovely people over at Gigs And Tours to bring you a fantastic competition where you can with a pair of tickets to take yourself and a friend to any date of this year's Kerrang! Tour (excluding Glasgow).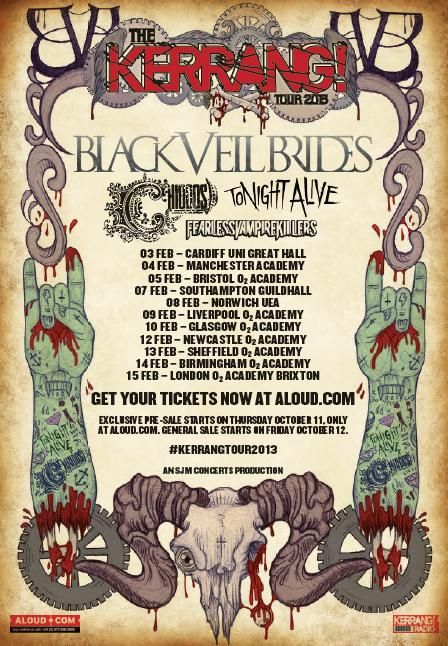 Simply answer the following question:
What is the name of the band that headlined last year's (2012) Kerrang! Tour?
You can enter this competition via email, Facebook and/or Twitter. All steps you need to take for each submission method are below:
EMAIL: Please email all answers in full with the subject title "KERRANG COMP" to competition@deadpress.co.uk along with your full name, age, address and the date which you would like to win the tickets for. Only submissions that supply all of this information will be valid entries.
FACEBOOK:
1.) Like the DEAD PRESS! page (www.facebook.com/deadpress)
2.) Share this photo/image (here)
3.) Leave the answer to the question above in the comments section of the image
TWITTER:
1.) Follow us on Twitter (@deadpresszine)
2.) Retweet this post (here)
3.) Tweet to us the answer to the question above along with the hashtag #kerrangtour2013
Only one entry per submission method will be counted, however, you are allowed to enter more than once using different methods, meaning you can enter three times if you submit your answer via email, Facebook and Twitter. The same email address for entry can only be used once.
This competition closes on January 24th 2013 at 11:59PM. All entries submitted after this time or who are no longer following/liking us on Twitter or Facebook will be classed as invalid.
Winners will then be contacted the following day via email, Facebook or Twitter (depending on your submission option) with details on how to redeem their prize. Any winners who don't respond to this within 48 hours will lose the prize and it will be passed on to a runner-up.
Good luck!