City: Manchester
Venue: NQ Live (formerly Moho Live)
Night: December 14th, 2012 (launch night)
Website: None available
Facebook: www.facebook.com/facedown.manc
Twitter: www.twitter.com/facedownmanc
With it rapidly becoming on the UK's biggest rock/metal/punk/hardcore/alternative/whatever you want to call it club nights, already having regular nights in London, Facedown has now found itself another home up North in Manchester's NQ Live. With their launch night bringing in entertainment for the ears from Cancer Bats and entertainment for the eyes from The Cyanide Girls, the club night really does aim to welcome their new Mancunian family in style.
---
MUSIC STYLE:
The DJ sticks to friendly ground with the crowd, pumping out a range of rock/punk/alternative tracks from across the years, including the likes of While She Sleeps, Decade, Four Year Strong and many other floor fillers. Have a dance, have a mosh, have a sing. Just generally, have a good ol' time.
DRINK OFFERS:
Even for anyone who for whatever reason stumbled in without any interest in rock music at all could easily erase their memory and inabitions with the drink deals. Take it easy with some nice and cheaply priced VS (essentially WKD without the silly price tag), cheap lager but sadly no reduction on cider. However, get on the rock bottom prices for Jager bombs and you'll be on the floor in no time.
OTHER NOTABLE INFO:
As already mentioned, for the launch night they'd brought in one of the hardest working tour bands of today: Cancer Bats. Though only provided a 30 minute long set, it's a rarity to watch this band (in the UK at least) as late as 1:00PM and in a venue so compact. People fly over the barrier in waves, jumping and crowdsurfing back out afterwards – I even got involved myself. Everyone else who didn't fancy potentially being thrown into one of their guitars or plummeting to the floor when coming back, decide instead to mosh about and scream along to the lyrics of 'Bricks & Mortar' and more.
After a short interlude of normal Facedown club night proceedings, it was time to let out the more visual treats: The Cyanide Girls. No doubt upon their arrival and them hoisting themselves up and sliding down the pole onstage, a few boys may have drooled in their pants along with their mouths. Sparks soon start flying too as the two girls start grinding a power saw against a metal belt around their waists. The beauties clearly winning over the crowd.
---
Going on into the wee hours of 6:00AM, it appears the launch night of Facedown's new settlement in Manchester was certainley a success. The club night will continue for each third Friday of every month at the same venue, with the next taking place on January 18th 2013. The next club night will bring entertainment from Me Vs. Hero and The Cyanide Girls, running from 10:00PM-4:00AM.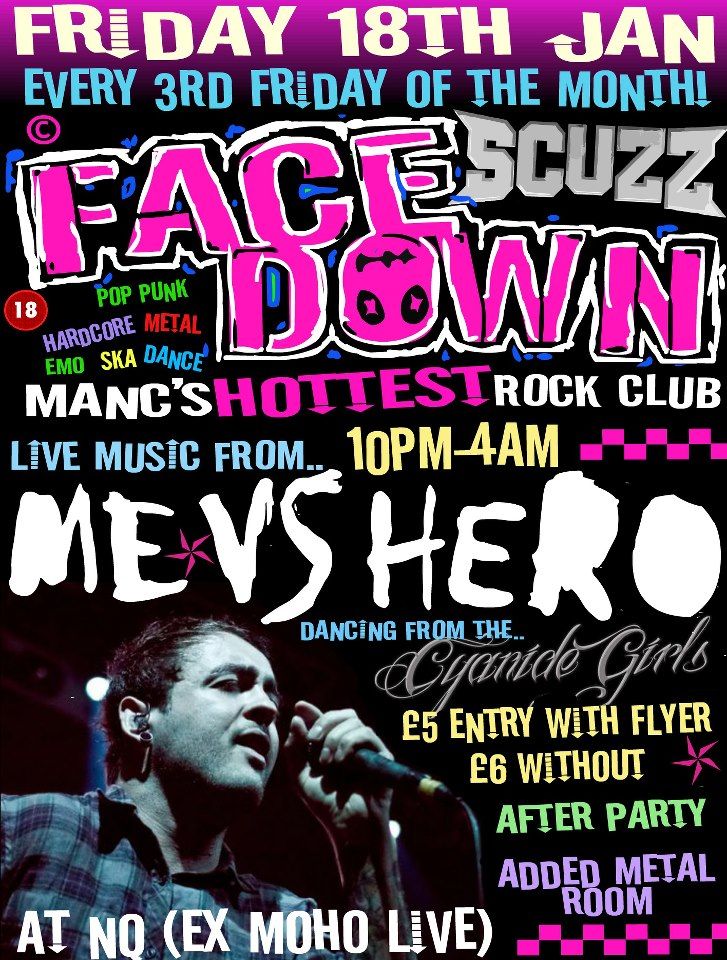 Entry costs £5.00 with a flyer or £6.00 without. You can also find the official Facebook event page for the night by clicking here.
Written by Zach Redrup