With this year's Butserfest drawing ever closer, we decided to check in with a few bands to see how their preparations were going, whether they had anything spectacular to show us and just who they're excited to see at the festival. First stop: The Elijah. Who better to talk to about a live appearance than the band notorious for their breath-taking performances and intense stage presence. We caught up with vocalist Dan Tomley to talk over all of the above and more: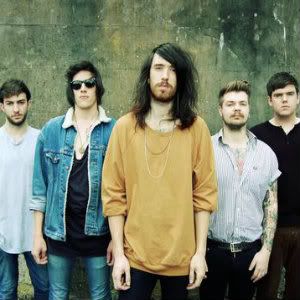 DP!: So you guys are appearing at Butserfest this year – a one day drug and alcohol free festival. What do you think of having a festival that is strictly drug and alcohol free?
Dan: If that just means everyone is going to go outside the festival to get drunk and take drugs then come back then it may miss the point. I'm not too sure why they made it drug and alcohol free, but if they're aiming for a younger audience then it's easy to see why. I think a younger audience can enjoy a day like that even more so if there aren't loads of drunk people around.
DP!: With your debut 'I Loved, I Hated, I Destroyed, I Created' receiving fantastic reviews, have you noticed an increase in your fanbase since the release, or an increased presence at live shows?
Dan: We've only done around 15 shows in the UK since its release and that was a tour which we supported another band, so I don't feel that we've seen the full effect of the album in regards to audiences growing just yet. We've just announced a full album show alongside a string quartet, and the response to that has been amazing so far.
DP!: Having done all of your album artwork yourselves, do you feel this has made the album that bit more personal to you? Where did the artwork ideas come from?
Dan: We took a hands on approach right the way through this album, we recorded a lot ourselves in this countryside mansion. That environment became such a huge part of the album's sound that it felt right that we base the album artwork on it, showing the rooms where we recorded drums, recorded vocals, recorded guitar. I think it really makes the album seem like more than ten songs recorded and stuck on a CD. It's a whole package.
DP!: You're renowned for your spectacular live presence, will you be bringing anything new to your appearance at this year's Butserfest?
Dan: It's always a difficult one with festivals. We have our own light show and it's something that we're very proud of, but we could turn up to Butserfest to find we're playing in a fully lit tent. So we'll plan some things for what we can do, but even without the lights and projections live I think we can still stand out on a line-up.
DP!: Being in an age where music is unfortunately easy to find for free on the internet, would you rather your fans were able to download your music for free just for the pleasure of hearing it, or would you rather they paid and truly showed their support?
Dan: We really did our best to put together a really appealing package for our album. We hand-made 50 books that went out with the first 50 orders. We know people are going to download the album, and if they enjoy it and come out to a show then that's great. If they buy merch to support us at the show then that's even better. But we feel in this day it's more important to put that extra effort and thought into packaging your album, and making it something you would want to own rather than just 10 mp3s.
DP!: Are there any acts on this year's Butserfest line-up that you're particularly looking forward to seeing?
Dan: I think we're all excited to be seeing Futures, we're forever playing them in the van. It will be good to catch up with the guys in Violet, they've had a line-up change since we toured together in July so it will be interesting to see them again. We're good friends with POLAR. too and they put on such an intense live show, it will be good seeing them.
DP!: It's easy to see how film scores and instrumental pieces inspire The Elijah so much, what would you say has been your biggest influence within these categories?
Dan: This Will Destroy You had a huge impact on our sound. The first time we heard their self-titled album, it was probably a defining moment in this band. That was the band that really turned us onto this genre and it's grown from there. We're huge fans of Caspian, Olafur Arnald's music has been a big influence to the orchestral side of things in this band.
DP!: And finally; let's skip to this time in three years. Where are The Elijah, what are you doing and who are you doing it with?
Dan: Hopefully we'll be a few more albums down the line. I would hope our live show will continue developing to the point where we're at a level where we can choose venues which will add to what we're doing live. We would love to be able to step away from the standard venue and be playing old churches or warehouses. We would love to be playing shows in huge rooms where we can fill places with projections and use those rooms to our full advantage.
Interview by Cheri Faulkner