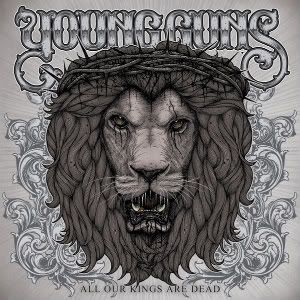 Release Date: July 12th, 2010
Label: Live Forever
Website: None available
MySpace: www.myspace.com/youngguns
Rating:

'All Our Kings Are Dead' sees Young Guns recapture their sugar coated snarling bite that was so evident on their debut EP 'Mirrors', yet strangely lacking on the individually released single 'Winter Kiss' which is also present on this release. The band seem to have been reading from the Lostprophet guide to stadium sized chart riff-rock with steady feed of easy going choruses and busy, galloping verses that focus on amping up Young Gun's pop credentials and smooth over the cracks lingering beneath the surface.
Vocalist Gustav Wood has a voice that balances and blends the smooth delivery demands of the band's unit shifting ambitions whilst matching their shots of guitar chugging glory moments. The entire album is filled with a commanding self-assurance in the band's execution of that two sided writing philosophy; highly commercial pop songs under a post-hardcore-lite hood that aren't devoid of all integrity. 'All Our Kings Are Dead' is a collection of well-written songs built for some mild chart bothering and pulp press cover domination written by a band with their ears planted on a genre they've pastiched, borrowed from but ultimately admire.
The album swings from the outright, clear as day, smash hits fodder of 'Meter & Verse' and the aforementioned 'Winter Kiss' and into the moodier realms of 'D.O.A.' with its 'my first Cancer Bats' vibe and almost ballad 'At The Gates'. Throughout it's solid enough pumping out sing-a-long primed sections and disco head bang riffs aplenty, but there's little in the way of depth or real excitement to the album. It does what it intends to do with minimal fuss but there's an awful feeling of adequacy as if the band have done just enough to satisfy their own expectations instead of pushing on into something far more powerful.
'All Our Kings Are Dead' feels like a missed opportunity rather than the roof lifting, breakthrough it could have been.
Written by Greg Johnson