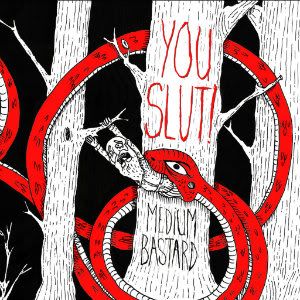 Release Date: April 16th, 2012
Label: Stressed Sumo Records
Website: None available
Facebook: www.facebook.com/youslut
Twitter: www.twitter.com/youslut
Rating:


You Slut! are an instrumental math rock band, based in Derby/Nottingham and have, in some ways, created one of the biggest mash up genre albums of the year. New album 'Medium Bastard' is so random and interchangeable, you can't quite tell whether it's coming or going. In songs like 'Plural Sex', you get this continuous indie beat that taps your toes throughout, whereas 'Shellsock' offers a little jazz influence that is followed by definite hardcore beats behind the thunderous roar of 'Pitch & Putt With You Slut!''s guitars.
Math rock is a very technical and experimental genre, which explains why there have been so many different riffs, beats and melodies all thrown into one, which to the untrained ear can come across as quite messy and baffling to listen to. But, for those of us who enjoy the technicalities of math rock, 'Medium Bastard' is an album you need to have.
In tracks like 'More Than One Seamless' the riffs sound like something that Rage Against The Machine would write, but then the whole rhythm and melody will change to rapidly and you're transformed into this new world that you simply get lost in, especially in tracks like 'Elton Chong'.
This album is so varied and complex, it takes a certain type of person to appreciate it, but be warned, this is not the album you can sit down and unwind to. The jolty, unforgiving beats keep you on the edge of you seat, while the fiery guitars play that almost make you nervous.
Instrumental music is hard to do and You Slut! have definitely given it a worthy try. This album is, quite simply, just to the acquired taste. But that's not to say that it won't be popular, only on a niche market.
Written by Louisa Smith
Founder & Editor for DEAD PRESS! | Atheist and antitheist. | Judge of the quick & the dead since 1989.